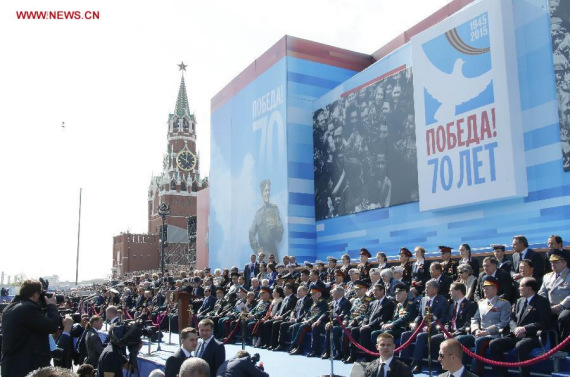 Chinese President Xi Jinping attends the military parade marking the 70th anniversary of the victory in the Great Patriotic War, in Moscow, Russia, May 9, 2015. (Xinhua/Ju Peng)
Chinese President Xi Jinping on Saturday attended a grand military parade held in Moscow to mark the 70th anniversary of the victory of the Great Patriotic War, Russia's term for WWII.[Special coverage]
Xi was hosted by Russian President Vladimir Putin. There were about 20 leaders of nations and international organizations present in the commemorative event.
China's guards of honor, consisting of 102 members, joined the parade and marched through the Red Square.
It is the first time for Chinese soldiers to participate in Russian Victory Day parades.