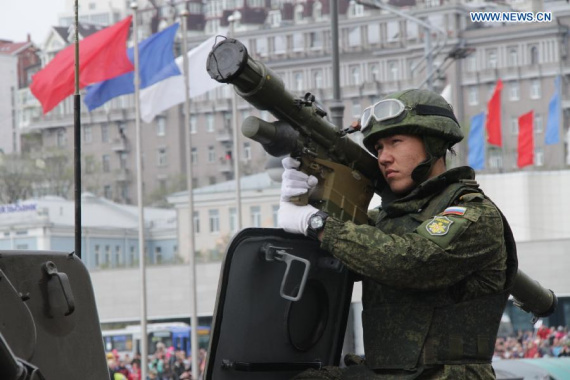 A Russian soldier is seen during the military parade marking the 70th anniversary of the victory in the Great Patriotic War, in Vladivostok, Russia, May 9, 2015. (Xinhua/Valery)
Primorsky Kray was one of the first regions in Russia to celebrate the 70th anniversary of victory of World War II (WWII) with a grand parade held here on land, at sea and in the air in its capital, drawing around 50,000 spectators.[Special coverage]
More than 2,000 people from the Russian Pacific Fleet's divisions, the Ministry of Emergency Situations and the Ministry of Internal Affairs, as well as cadets from naval institutions, marched past Vladivostok's main street.
The mechanized column included 43 units of military equipment. The coastal defense missile system "Ball" was involved in a military parade here for the first time. Also present were tactical surface-to-air missile systems "Osa", C-300, supersonic anti-ship cruise missiles "Redoubt" and other equipment.
A citizens' procession called "Immortal regiment" followed the Victory Parade. More than 15,000 Vladivostok residents marched past Svetlanskaya street, holding portraits of veterans.
A total of 11 units of airplanes (Tu-142, Il-38, An-26 and turbo-jet Tu-134) and helicopters of the Russian Naval Aviation (Mi-8, Ka-27) flew over the main street of the city to celebrate the victory of the Great Patriotic War, Russia's term of WWII.
For the first time, the Victory Parade here contained a naval section. Five warships of the Pacific Fleet, including anti-submarine destroyer "Marshal Shaposhnikov", submarine B-494 "Varshavyanka" and the guard ship "Berkut" of the Border Service of the Federal Security Service of the Russian Federation, were lined up in the Golden Horn Bay.
The Victory Day celebration finished with fireworks.