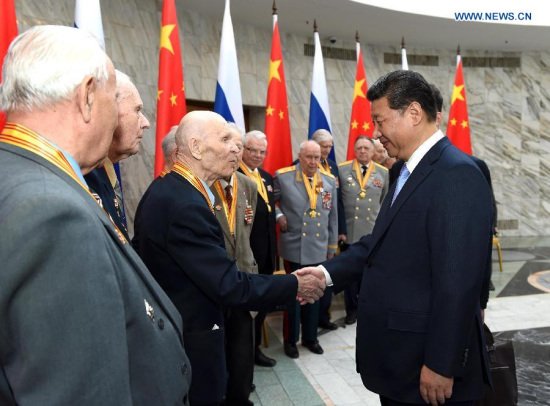 Chinese President Xi Jinping (R, front) shakes hands with a Russian veteran in Moscow, Russia, on May 8, 2015. Xi met with 18 representatives of Russian veterans who fought dauntlessly on the battlefield in northeast China during the anti-Japanese war and in Russia's Great Patriotic War in Moscow on Friday. (Xinhua/Rao Aimin)
"I'll go over and bring the badge to you! You don't need to move," Chinese President Xi Jinping told Gaverdovsky when he found the Russian veteran could not walk steadily.[Special coverage]
Xi then walked swiftly to Gaverdovsky, who is in his 90s, and presented the badge to him in order to honor the veteran's contribution to the victory of the World Anti-Fascist War.
Warm applause greeted the touching episode in the medal-awarding ceremony here on Friday afternoon for 18 Russian veterans who fought against Japanese invaders in China's anti-Japanese war in the 1930s and 1940s.
Xi hosted the ceremony and is scheduled to attend commemorative events to mark the 70th anniversary of the victory of the Great Patriotic War.
When the Chinese president walked into the meeting hall, the national anthems of the two countries were played.
Xi shook hands with the veterans, extended his sincere greetings to them on behalf of the Chinese government and people, and spoke highly of their great contribution to the victories of China's anti-Japanese war and the World Anti-Fascist War.
The Chinese-Russian friendship, forged with lives and blood during the wartime, has laid a solid foundation for the two peoples to carry forward their bond from generation to generation, he said.
The commemorative events the two countries hold this year are aimed at remembering the history, treasuring peace and pursuing a better future, added the Chinese president.
The Russian veterans applauded Xi's remarks. They lauded China's fight against militarist Japan and noted that the Chinese military and people provided tremendous support for the Soviet troops battling Japanese invaders in China.
During World War Two, both China and Russia made great national sacrifices, respectively suffering casualties of over 35 million and 27 million.
Under current circumstances, the veterans said, China and Russia should join hands to safeguard peace, civilization and the future of the world.
Gaverdovsky told the press after the ceremony that he did not think Xi could be so attentive and was deeply touched by the Chinese president's consideration.
His wife embraced him and kept stroking the badge, saying "what a remarkable glory!"