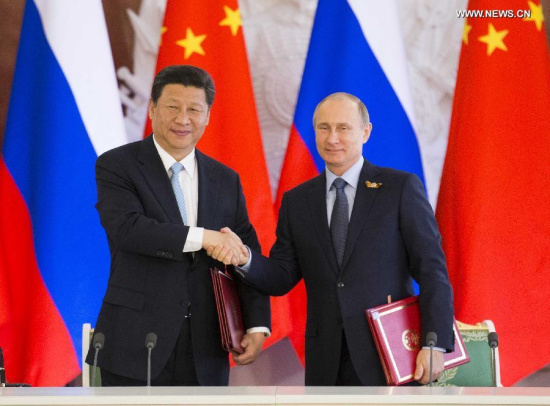 Chinese President Xi Jinping (L) shakes hands with his Russian counterpart Vladimir Putin during the signing of a joint statement after their talks in Moscow, capital of Russia, May 8, 2015. (Xinhua/Huang Jingwen)
Visiting Chinese President Xi Jinping and his Russian counterpart, Vladimir Putin, on Friday vowed to defend history of World War Two (WWII) and safeguard world peace and international justice.[Special coverage]
The two leaders also agreed to promote the docking between the China-proposed Silk Road Economic Belt initiative and Russia's aspiration under the Eurasian Economic Union framework.
Xi, who expressed his pleasure in attending events in Moscow to mark the 70th anniversary of the victory of the Great Patriotic War, recalled the great sacrifices and contributions made by China and Russia, two major battlefields during WWII.
By fighting shoulder to shoulder during the wartime, the two peoples forged a profound friendship, Xi added.
Noting that China and Russia will respectively hold events commemorating the WWII victory, Xi said those celebrations are aimed at remembering history and paying tribute to martyrs while, alongside people of all nations, safeguarding the hard-earned peace and ushering in a bright future for peace and development of all mankind.
"We stand ready to deepen the traditional friendship with the Russian people, promote the docking of our strategies of development, chart the future course for our friendly cooperation, and keep the China-Russia comprehensive strategic partnership of coordination running at a high level," Xi said.
In so doing, he added, the two neighbors will also help build a fairer and more reasonable world order and safeguard regional and global peace, security and stability.
For his part, Putin hailed the comprehensive strategic partnership of coordination between the two countries, noting that it has yielded fruitful results in various fields and at different levels.
Agreeing with Xi's remarks on the historic contributions China and Russia made in WWII, Putin said both countries will oppose any attempt to deny and distort history, and fight against any move to beautify Fascists and militarists and sling mud to liberators.
In a sign of the distinctiveness of the China-Russia relationship, the two heads of state have maintained frequent contacts. The meeting Friday was their ninth during the past two years.
During the ongoing visit to Russia, Xi will join leaders of other countries for the Victory Day parade on the Red Square and lay wreath to the Tomb of the Unknown Soldier on Saturday.p Xi arrived in Moscow earlier Friday after visiting Kazakhstan. After Russia, Xi will make a two-day visit to Belarus.