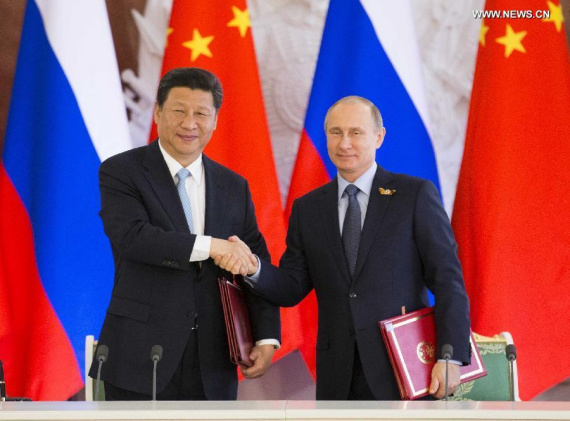 Chinese President Xi Jinping (L) shakes hands with his Russian counterpart Vladimir Putin during the signing of a joint statement after their talks in Moscow, capital of Russia, May 8, 2015. (Xinhua/Huang Jingwen)
China and Russia on Friday called for proper settlements of major international issues including the crises of Syria and Ukraine and the situations in Afghanistan and the Korean Peninsula.[Special coverage]
The two global heavyweights proclaimed their common stances in a joint statement signed by visiting Chinese President Xi Jinping and his Russian counterpart, Vladimir Putin, after their talks.
In the document, the two sides reiterated that they support Syria's sovereignty, unity and territorial integrity, regard political means as the only way to solve the crisis, and oppose any attempt of military intervention.
They called on all parties in the Syria conflict to stop armed confrontation as soon as possible and start internal dialogues and negotiations in line with the 2012 Geneva Communique for a long-term political settlement that conforms to the will of the Syrian people.
Meanwhile, the two countries reaffirmed their determination to help Afghanistan break away from terrorism and drugs and become a peaceful, stable, democratic, neutral and prosperous nation.
They expressed concern on the deteriorating situation in the Asian country caused by Islamic State and vowed to promote the country's military building and national reconciliation process.
The two nations also referred to the protracted Ukraine crisis, urging relevant parties to formulate a comprehensive, balanced and sustainable political solution that takes into full consideration the reasonable interests of all parties concerned.
On the Iranian nuclear issue, Beijing and Moscow spoke highly of their coordination on pursuing a resolution through political and diplomatic means.
They called on all parties in the negotiations to seize the historic opportunity and intensify diplomatic efforts, so as to reach a fair, balanced, win-win and mutually beneficial agreement before the June 30 deadline.
As to the Korean Peninsula situation, they reiterated that it is in the interests of all parties concerned and of great significance to regional peace, stability and prosperity to keep the peninsula peaceful, stable and denuclearized and solve relevant issues via dialogue and consultation.
They also agreed that the Six-Party Talks mechanism is an effective way to address the Korean Peninsula nuclear issue, and relevant parties should foster favorable conditions for its resumption.
Xi arrived in Moscow earlier Friday for a visit to Russia, where he is scheduled to attend a series of events to mark the 70th anniversary of the victory of the Great Patriotic War.