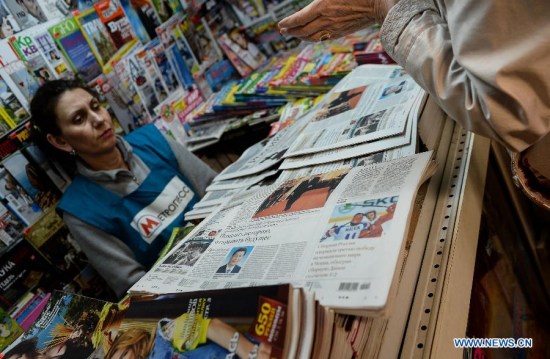 A signed article by Chinese President Xi Jinping is published on the state-run newspaper Russian Gazette in Moscow, Russia, May 7, 2015. The article was published before Xi's visit to Russia to attend the ceremony commemorating the 70th anniversary of the victory of the Great Patriotic War in Moscow.(Xinhua/Jia Yuchen)
A signed article by Chinese President Xi Jinping has aroused wide echoes among Russians, as Xi is going to Moscow to attend the celebrations marking the 70th anniversary of victory of the Great Patriotic War, Russia's term for World War II (WWII), and to pay a visit to Russia.[Special coverage]
In the article published by the Russian Gazette, Xi recalled the sacrifices and contribution China and Russia made in WWII, reaffirmed the two countries' joint determination to uphold the outcome of the war, and called for win-win cooperation in dealing with international affairs.
Pavel Negoitsa, director-general of the Russian Gazette, said the article that the Chinese top leader wrote directly to the newspaper is remarkable. "I am very much impressed with his article. It was written in a very intimate language of a compassionate man," he added.
"Xi said the peoples of China and Russia will stand together with all peace-loving nations and people firmly against any attempt to deny, distort or tamper with WWII history," he said. "This is important because it is what the Russians are now concerned about, and our closest neighbor pointed it out clearly."
Criticizing those who claimed that it is not necessary to hold celebrations to commemorate the wartime history, Negoitsa said "that must be done to show our respect to millions of victims, and remind ourselves and the younger generation of the great hardship of those times."
Commenting on Xi's words that the Law of the Jungle and hegemonic policies will not benefit coexistence, peace and development for all mankind, Negoitsa said if modern politicians and people would not draw those lessons, they will risk to experience them again.
Galina Bakalina, a student of the Financial University Under the Government of the Russian Federation, was moved by the Russian Gazette picture of Xi laying a wreath at the Tomb of Unknown Soldiers near the Kremlin wall during his first state visit to Russia in 2013.
"The Chinese President mentioned the mutual support of China and Russia for each other during WWII. We, the younger generation, should pass on the historic friendship," she said.
In the article, Xi praised efforts made decades ago by people from more than 50 countries including China and Russia and all peace-loving people in forming a universal Anti-Fascist and Anti-Militarism United Front. He said they fought jointly and defeated the barbarian invaders in life-and-death battles between justice and evil, light and darkness, freedom and slavery.
"China made one of the largest national sacrifices of over 35 million people in WWII. In Western countries, the European theater of war used to be in the focus of people's memory, while the war in Asia-Pacific is somewhat shadowed," said Andrei Kortunov, director-general of the Russian International Affairs Council.
"So Xi's attendance of the V-Day celebrations in Moscow is important for the younger generation to be aware of the real scale of WWII and to get a comprehensive understanding of the war," he added.
Yuri Tavrovsky, professor of Russia's Peoples Friendship University, sees Xi's words as confirmation of real historical facts.
"China helped us a lot, especially in the first months of war...No one knows how the Great Patriotic War would end if Japan had stroke our rear in 1941. Similarly, We also provided help to China," Tavrovsky said.
In his article, Xi quoted Russian historian Vasily Klyuchevsky as saying that "If we lost the memory of our past, our mind and soul would be lost in the darkness," in a bid to show the determination of peoples of China and Russia to fight against attempts to rewrite the wartime history.
Natalia Kovalenko, a public servant in Moscow, said she was quite familiar with the quotation. "Klyuchevsky warned us as early as in the 19th century about what would happen if we disdain history. In the 21st century, to remember the wartime history and the cost of the final victory will be a guarantee of peace," she added.
Xi also urged all nations to adopt win-win cooperation as a basic policy orientation in dealing with global affairs, which is applauded by Russian experts.
"Both Moscow and Beijing advocate non-confrontational solutions to world problems. Unfortunately, there are some countries which put emphasis on forceful approaches. Russia and China demonstrate solidarity in understanding that such methods are unacceptable," Kortunov said.
Negoitsa believes that China's proposal of shaping a new type of international relations oriented toward win-win cooperation is in line with the rule of social development, and serves as a wake-up call for people to learn from WWII in order not to repeat the tragedy.