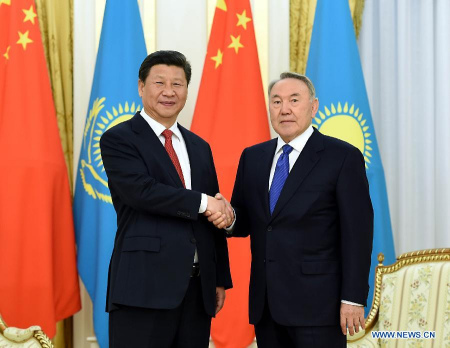 Chinese President Xi Jinping (L) holds talks with Kazakh President Nursultan Nazarbayev in Astana, Kazakhstan, May 7, 2015. (Xinhua/Rao Aimin)
Chinese President Xi Jinping and his Kazakh counterpart Nursultan Nazarbayev agreed in Astana on Thursday that the two countries will align their development strategies in pursuit of common prosperity.[Special coverage]
"We are ready to align the (China-proposed) Silk Road Economic Belt initiative to Kazakhstan's new economic policy of the Bright Road, so as to achieve common development and prosperity on the basis of equality and reciprocity," Xi said during the talks.
The Chinese president, along with his wife Peng Liyuan, arrived in Astana Thursday afternoon for a visit to Kazakhstan.
It was the first leg of his second overseas tour this year, which will also take him to Russia and Belarus.
Recalling his first visit to Kazakhstan in September 2013 when he raised the Silk Road Economic Belt initiative, Xi said the Chinese side thought highly of the early harvest of the cooperation between the two countries on building the economic belt.
He said China and Kazakhstan should continue to boost cooperation on infrastructure, energy, finance, security, and cultural and people-to-people exchanges.
Echoing Xi, Nazarbayev said Kazakhstan backs China's initiative and stands ready to be an important partner of China to build the Silk Road Economic Belt.
Kazakhstan will work with China to link the Bright Road strategy to the building of the Belt, and cooperate with the Chinese side on trade, industrial capacity, energy and technology, Nazarbayev said.
During the talks, Xi congratulated Nazarbayev on his re-election as Kazakh president.
Nazarbayev won the election on April 26, garnering more than 97.7 percent of the votes.
Hailing the fast development of the bilateral comprehensive strategic partnership over the past years, Xi said China attaches great importance to its ties with Kazakhstan and is ready to work with the Kazakh side to elevate economic, security and people-to-people cooperation bilaterally, and strengthen coordination in international and regional affairs.
The Chinese president also voiced China's support for Kazakhstan's bid to host EXPO-2017, which will focus on the theme "Future Energy."
Xi said China pays much attention to the work as chair of the Conference on Interaction and Confidence Building Measures in Asia (CICA), and will work together with Kazakhstan and other countries concerned to make the conference an efficient platform for promoting consensus, unity and mutual trust among Asian countries.
China's presidency will last till May 2016.
Nazarbayev said Kazakhstan is firmly committed to the friendship with China and will deepen cooperation with China in various fields.
He said the Kazakh side supports Xi's proposal of building a community of common destiny in Asia, which is in line with the historical trend as well as in the interests of countries in the region.
Kazakhstan is ready to work more closely with China under the framework of the CICA and that of the Asian Infrastructure Investment Bank (AIIB), Nazarbayev said.
During the talks, the two presidents also discussed the Shanghai Cooperation Organization and the situation in Central Asia, among others.
Before the talks, Nazarbayev held a red-carpet ceremony to welcome the Chinese president at the presidential palace in Astana.