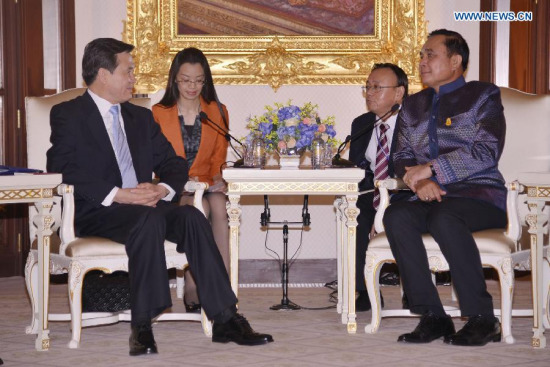 Thai Prime Minister Prayuth Chan-ocha (R, front) meets with Chinese State Councilor Yang Jing (L, front) at the Government House in Bangkok, Thailand, May 7, 2015. (Xinhua/Rachen sageamsak)
Thai Prime Minister Prayut Chan-o- cha and visiting Chinese State Councilor Yang Jing on Thursday pledged to push forward Sino-Thai cooperation in various fields such as railway development and tourism.
While meeting with Prayut, Yang said that China-Thailand relations have maintained a good momentum of development, with frequent high-level exchanges and continuous deepening of pragmatic cooperation.
This year marks the 40th anniversary of the establishment of Sino-Thai diplomatic ties, and the two countries are faced with new opportunities, Yang said.
China is willing to work closely with Thailand to facilitate railway cooperation, push forward collaboration in infrastructure construction under the framework of the China-proposed Belt and Road Initiative, and deepen cooperation in other fields like trade, tourism and safety of law enforcement, he said.
This will continuously elevate the two countries'comprehensive strategic partnership of cooperation to a new level and truly benefit the two peoples, Yang stressed.
The Belt and Road Initiative refers to the building of the Silk Road Economic Belt and 21st-Century Maritime Silk Road, which was proposed by Chinese President Xi Jinping.
During the meeting, Prayut said the Thai side attaches great importance to developing its relationship with China and expects to further learn from China's experience in state administration.
Thailand welcomes China-proposed cooperation initiatives like the Belt and Road Initiative and is willing to participate in an active manner, he said.
Thailand is also willing to advance bilateral cooperation in railway, agriculture and tourism and boost personnel exchanges, the premier added.
During his visit, Yang also met with Thai Deputy Prime Minister and Minister of Foreign Affairs Tanasak Patimapragorn and President of the National Legislative Assembly Pornpetch Wichitcholchai, respectively.