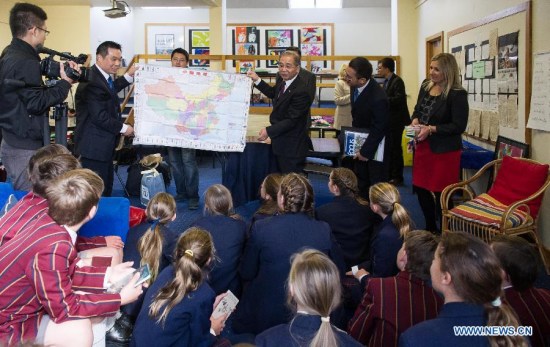 Students from Scotch Oakburn College are presented with a Chinese national map in Launceston, Australia, May 7, 2015. A group of Tasmanian elementary school students have been issued a formal invitation to visit China from President Xi Jinping, after they wrote to him asking the leader to visit Tasmania last year. (Xinhua/Bai Xue)
It turned out that Christmas in July did happen in Australia's southeast state of Tasmania, a heavenly island famed for its natural scenery and purity of water and air.
It was a dream-come-true moment for 22 students from Launceston ' s Scotch Oakburn College when they heard that they were invited by Chinese President Xi Jinping for a week-long visit to China in May. "We feel very honored. I'm really excited and little bit nervous. And we're all very grateful,"said 11-year-old Chloe Edwards.
Accompanied by teachers and parents, Edwards and her classmates are scheduled to visit the capital city of Beijing. "We are going to the Beijing Zoo and our sister school, the Great Wall of China and we are going to take the fastest train in the world, so that's really exciting,"she said.
Andy Muller, the school principle told Xinhua that the importance of this invitation and the excitement of the students are both beyond the words.
"The invitation from President Xi is incredibly significant. I' m not aware of any other schools ever had invitations from the president,"he said.
He said the upcoming trip to China will benefit the students greatly as well as further consolidate close ties between the two countries. "This is going to help develop their enthusiasm learning about China, about Chinese languages and culture. This will help them to be better prepared for their future which is a world-wide future. Obviously Australia and China are very close and partners in a number of different ways."
These special young guests had welcomed President Xi in Tasmania's Hobart during his historic visit last November.
Xi was the first leader of major world powers to visit the island state. Years of preparations had been done to accomplish this visit, but it was a handful of students who gave the final nudge.
They made a case for Xi visiting the remote island state by sending him a letter written in Chinese describing scenic sites and local specialties. "Their words have filled me with curiosity,"Xi told the lawmakers when addressing the Australian parliament in Canberra before his unprecedented visit to Tasmania.
Despite tight schedule in a single day visit to Horbart, Xi enjoyed a lighthearted moment chatting with the students, planting a tree of friendship in the Government House's garden with them.
"One of the main purposes of my being here is to see you. Please keep on writing to me. I'd like to share your good news," he told the students. "That was a memory that I will remember forever," Theodore Wolfhagen said."They were so friendly and they really wanted to meet us and we really wanted to meet them too." "It's really exciting to get the relationship between China and Australia stronger. We can send people from our school to study in China and get people from China to study here,"he said.
Muller said the students will make the most of this once in a generation opportunity to boost the relationship between the two countries to new high.
"I just think it's very important for young people to get to understand the culture of China and for Chinese people to understand our culture as well so that we can communicate as friends, can appreciate each other's differences and in that way in the future we can build stronger ties,"he said.