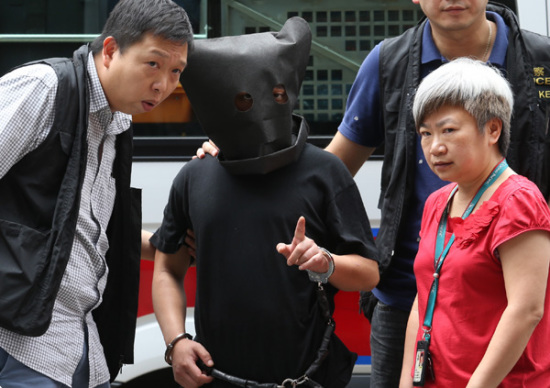 Police officers bring a suspect on Tuesday to the scene of a kidnapping last week in Ngau Chi Wan, Hong Kong. (Photo/China Daily)
Mainland police arrested five more people over the past two days on suspicion of involvement in Hong Kong's biggest kidnapping-for-ransom case in 17 years.
Three men were arrested at locations in Guangdong province, including Dongguan, and two others were found at a Shenzhen guesthouse on Monday as a massive manhunt entered its eighth day following the kidnap and ransom of Bossini apparel heiress Queenie Rosita Law.
A suspect arrested by Hong Kong police will be charged with one count of abduction for financial gain and will appear in Kwun Tong Magistrates' Court on Wednesday.
A police source told China Daily that not all of the suspects detained thus far are from the original six-man kidnapping crew and that some of the kidnappers are still at large.
The source spoke on condition of anonymity because he was not authorized to speak to the media.
Unconfirmed media reports indicated the two men apprehended in Shenzhen, ages 22 and 31, were waiting for an accomplice to arrive from Hong Kong.
Police said a 29-year-old suspect from Guizhou province reportedly was apprehended on Sunday while attempting to cross back to the mainland. He was taken to Choi Hung subway station on Tuesday for a crime scene investigation.
Media reports said that suspect, identified as Zhang Xingwang, spoke through an interpreter, pointing at various locations within the subway station before being taken to a nearby market.
A horde of media photographers attended the high-profile exercise involving more than three dozen officers, including 10 from the criminal investigation bureau.
Zhang is accused of being part of a six man Mandarin-speaking crew that broke into Law's Sai Kung residence in the early hours of April 25 and fled with HK$2 million ($258,000) in cash and valuables.
Law was bound in tape and abducted while her parents slept. She was later freed from a hilltop cave after a HK$28 million ransom was paid.
Police initially said the kidnapping was a spontaneous development during a robbery, but revised their theory due to the level of planning and sophistication that went into the kidnapping and escape.
Suitcases used by Law's father to deliver the ransom, negotiated down from HK$40 million, were later found empty in the country park. The ransom has yet to be recovered.
Former Royal Hong Kong Police Criminal Intelligence Bureau head Steve Vickers said the kidnapping differed from past cases because it involved a female target, while all 28 previous cases he had handled involved a male child or heir.
"The recent publicity surrounding the abduction and ransom payment has caused concern among many wealthy families in Hong Kong," he said.