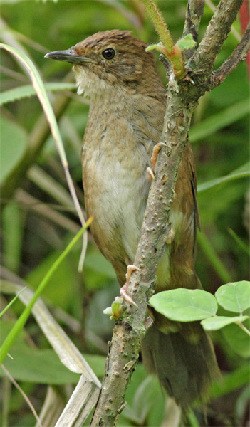 A Sichuan Bush Warbler is seen in foliage in Laojunshan, Sichuan province, last May. (Photo/China Daily)
They are extremely secretive birds. Smaller than a sparrow, they normally stay in dense cover, creep effortlessly through thick vegetation and are capable of running quickly on the ground.
Difficult to observe except when singing, the bush warblers are best identified by their songs. Yet because of its distinctive song, a new species of bush warbler has been identified in central China by a team of international scientists, adding one more bird to the country's list of nearly 70 native birds.
Named the Sichuan Bush Warbler (Locustella chengi), it breeds in mountainous regions at altitudes of 1,000 to 2,300 meters. Its winter quarters are unknown, "probably because its secretive manners make it exceedingly difficult to find unless it is singing", Professor Per Alstrom told China Daily.
Alstrom, from the Swedish University of Agricultural Sciences and a former visiting professor at the Chinese Academy of Sciences, is a co-author of an article about the bird published on Friday in Avian Research, a Beijing-based, peer-reviewed English journal which publishes ornithology research from around the world.
Alstrom first noticed the distinctive song, which consists of a drawn-out harsh note followed by a shorter note that is repeated in a series, while doing research on Mount Emei in Sichuan province in 1987.
The bird he heard singing in Sichuan looked just like a Russet Bush Warbler, which is found from northeast India to northern Southeast Asia and southeastern China. But as its song was so different, he and his colleague Urban Olsson suspected that it was probably a different species.
Since then, Alstrom and his fellow researchers from several colleges in China have been collecting data on what he described as this "confusing complex of bush warblers".
Over the years, the researchers examined and measured most specimens of the Russet Bush Warbler in global museums. More live birds were measured in the field. According to the article, they obtained 166 sound recordings, of which 159 were analyzed.
Analysis of the recordings and mitochondrial DNA show that there are actually two species of bush warbler in the complex, Alstrom said.
The Sichuan Bush Warbler and Russet Bush Warbler can be found on the same mountain in some places, although they prefer different elevations, the former lower down than the latter.
"These two bush warblers are very closely related, and were estimated to have separated from a common ancestor about 850,000 years ago," Alstrom said.
The new bird is native to China-breeding in Shaanxi, Sichuan, Guizhou, Hubei and Hunan provinces-with a single recorded sighting in northwestern Jiangxi province, the article said. The researchers have heard song activity from late April to mid-June, indicating that the breeding season begins mainly in May.
Fortunately, the Sichuan Bush Warbler is common locally, and does not appear to be under any threat because its favored habitat is still plentiful, "and is partly man-made, including tea plantations", Alstrom said.
The bird was named in Latin after the late professor Cheng Tso-hsin (1906-98), China's renowned ornithologist, and a former professor at the Chinese Academy of Sciences.
"It is the first Chinese bird named after a Chinese researcher," said academy professor Lei Fumin, who co-authored the article.
Liu Yang, an ornithologist from Sun Yat-Sen University in Guangzhou, Guangdong province, also a co-author, said of nearly 70 endemic birds in China, about half can be found in Sichuan.
"The finding of the new bush warbler has strengthened the province's role as China's frontier of ornithological discovery," Liu said.