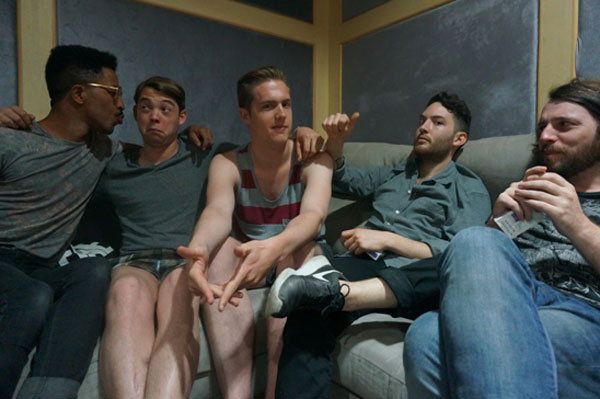 Clarens and Juveniles at a studio. (Photo: Chinadaily.com.cn/Ruan Fan)
Calm. Nice. Smart. Arrogant. Imperative. Naughty. Curious. Blonde. What describes these words? The answer is, Clarens and Juveniles, two bands from France. Describing themselves as such while they are 10-year-old kids in an interview with us on Thursday, these boys, now in their 20s and 30s, carry within themselves these traits to make their own music.
The different tastes of youth are captured through their creative combination of electric keyboards and bass, and their sometimes contemplative, sometimes jubilant voices. In their music, encounters could simply drown themselves in the world of fantasy they've created.
At their first show in Yugongyishan bar at Beijing on April 30, they set the night alight with their spontaneous performance. Their smoothing beat and psychedelic voice helps the audience connect to the shiny aching bits of memories of their youth.
On their second tour to China, they said they wanted to explore more about the people, the food, and the culture here. From April 30th to May 17 they will be touring in several cities in China, including Shanghai, Jinan, Xi'an and Chengdu. Also, they will be cooperating with Chinese band Nova Heart, remixing songs and producing fancy dance music.
You've been to the music festivals, how do you like music festivals in China?
Christophe Sauvaget: The youngsters are so much more excited than in France. And we've had music festivals for years now, so we've used to it, we do it all the time, so it's a normal thing for us. But in China, everything is new and everybody is excited about it, so it's really really cool to play.
How's your relationship with Nova Heart going?
Thibault Doray: We really like the way Helen sings, and she has a beautiful voice, and she's really talented and it's easy to work with her. So I knew the cooperation would go well.
What is the hardest part of cooperation?
Doray: I think it's when two worlds merge, you have to respect everyone's ego, and everyone's world, and you have to give space to everyone, and that's what we're trying to do.
Where do you get the inspiration for song writing?
Ousseynou Cisse: I get inspiration from life, from my relationships, my friends and girlfriends. I watch movies, books and poetry.
Do you write songs for your audiences and your fans or just for yourselves?
Doray: A French writer said: 'I only write for me and a couple of friends;' It's the same for us.
Do you interact with your fans often?
Sauvaget: After the shows, we want to meet people, even when we are in France or in Europe, because we wanna discover the city itself. But we don't want to talk about our music, because we don't care.
What is your genre of music?
Doray: We are doing basically electric pop. Ouss is getting all the innovative ones. He was trying to put in some really hard beat, and hardcore hip-pop, those airy, ambience sounds that have a very sweet voice. He's trying everyday to redefine.
Do you have musicians that you like, who that influenced you?
Guillaume Dupon: Daft Punk, I love them so much. Get Lucky, don't you know this one? And Phoenix, you have to listen to this one. We literally grew up with Daft Punk, the first record was out when I was 12 or 13. Doray: Nirvana. We listen to their tapes. It's so much energy, it's like, yeah, that's what we wanna do. Play guitar, and make noise, really loud. Then we switched up to punk.
Now you're going international, what is it like being international?
Doray: We sing and write in English. We don't sing in French, it's not that we don't like French, but using it as an instrument to sing is really complicated.
What is the strangest food that you've ever tasted in Beijing?
Doray: Last year in Beijing, we had the liver and jelly, the jelly was like, snot. There's lots of old people eating with us.
If you go:
Clarens and Juveniles will be giving performances at the Strawberry Music Festival in Shanghai on May 2, at the Alliance Francaise de Jinan in Jinan on May 2, at the Xi'an Strawberry Festival in Xi'an on May 16 and at the Sino-Ocean Taikooli in Chengdu on May 17th.