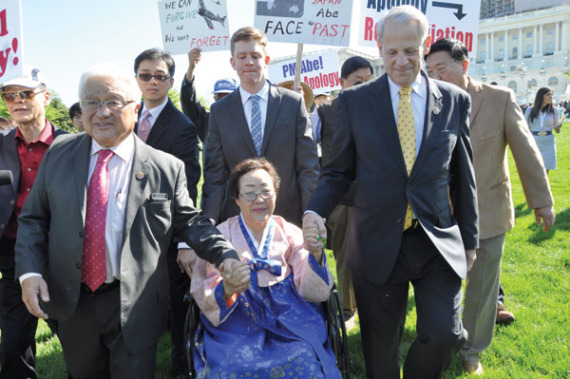 Yong-soo Lee of South Korea, an 86-year-old former "comfort woman," visits the US Congress in Washington to listen to a speech by Japanese Prime Minister Shinzo Abe at a joint session on April 29, 2015.
Outside the US Capitol on Wednesday, a congressman told a survivor of the "comfort women" era to remain calm.
"Please don't be nervous," US Representative Mike Honda told Yong-soo Lee, an 86-year-old Korean woman who was one of thousands of Asian women forced into sexual service by the invading Japanese Imperial Army during the World War II era.
"Abe is the one who needs to be nervous," Honda said. "He is nervous because he knows what he has to do. He knows what is right," said Honda, a Japanese-American who represents California's 17th Congressional District.
Honda and Lee were among some 500 people protesting in Washington while Japanese Prime Minister Shinzo Abe addressed a joint session of the US Congress.
Abe did not mention the comfort women or apologize in his speech.
"I am outraged, but not surprised," Lee said in her statement after the speech.
"Prime Minister Shinzo Abe didn't even mention the issue of 'comfort women' in his speech to Congress because he is afraid of me and the issue. He knows that he can't talk about it without lying.
"He can't bear the shame, and lies about it instead of facing the truth," she said. "President Obama and the people of the United States must not fall for these lies. It hurts us all to side with false history."
"I want to hear remorse and respect," said Congressman Steve Israel, who represents New York's 3rd Congressional District. "There are wounds that need to be closed; there are wounds that need to be healed. It can only be closed and healed if the prime minister of Japan addresses what happened in the past. The future can be shaped, but history cannot be forgotten."
"The H. RES. 121 happened in the Congress. It's ironic that the nation that caused the whole war crime is standing before the Congress to make a peace speech. It's not acceptable," Sami Lauri, chairwoman of the board of directors of the Washington Coalition for Comfort Women Issues, told China Daily.
House Resolution 121, which was passed in 2007 by the House of Representatives, called on the government of Japan to formally acknowledge, apologize and accept historical responsibility in a clear and unequivocal manner for the actions of its Imperial Army.
"It is a irresponsible behavior of not apologizing to the countries that Japan has invaded during World War II," Yang Xiuzhu, president of Chinese Alumni Association of Greater Washington DC and principal of the American Chinese School Northern Campus, told China Daily.
"Now a lot of young people are not familiar with the history of the Second World War," Yang said. "But our parents' generation has been through that and suffered from that. I hope the young generation does not forget what the war has done to us," Yang said.