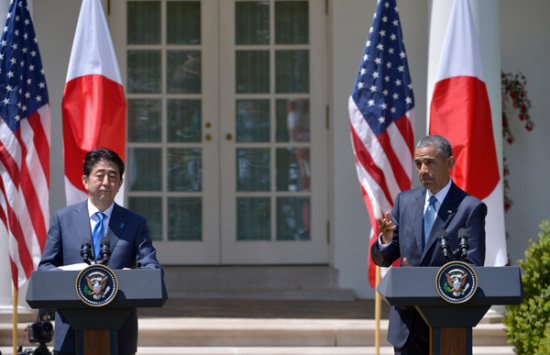 U.S. President Barack Obama holds a news conference with Japanese Prime Minister Shinzo Abe at the White House on Tuesday.(Photo/Xinhua)
Washington accused by Beijing of sending'wrong signals'over Diaoyu Islands issue
Beijing has urged Washington to "stop sending wrong signals" after U.S. President Barack Obama backed Japan's claim over China's Diaoyu Islands and accused China of "flexing its muscles" in the South China Sea.
Obama made the comment at a joint news conference with visiting Prime Minister Shinzo Abe, who was due to become the first postwar Japanese premier to address a joint meeting of the U.S. Congress on Wednesday.
Obama, appeared with Abe in the White House Rose Garden on Tuesday, said, "I want to reiterate that our treaty commitment to Japan's security is absolute."
Obama said the defense commitment will cover"all territories under Japan's administration", echoing earlier remarks by U.S. Secretary of State John Kerry. These included that China's Diaoyu Islands in the East China Sea are within Japan's realm of administration.
Chinese Foreign Ministry spokesman Hong Lei said in Beijing on Wednesday: "We urge the U.S. to take a responsible attitude and remain committed to its promises regarding no side taking over territorial sovereignty issues. It should stop sending wrong signals and play a constructive role for regional peace and stability."
Hong said that"neither the U.S. nor Japan is a stakeholder in the South China Sea issue".
The U.S. and Japan should adopt"an objective and fair attitude and stop resorting to any remarks or actions that would complicate disputes and sabotage regional peace and stability", Hong said.
Teng Jianqun, an expert at the China Institute of International Studies, said Obama's remarks reflect"a personal priority over the alliance with Japan".
Obama's comments about China allegedly flexing its muscles and also on the Diaoyu Islands issue "aim to impress the public that the U.S. gives strong backing to Abe and Japan", Teng said.
Ruan Zongze, vice-president of the China Institute of International Studies, said Washington expects Tokyo to fight for U.S. security interests worldwide, and its de facto support for Japan's territorial claim and its"troublemaking"over the South China Sea issue will only render Japan "fearless".
Coming just ahead of the 70th anniversary of the end of World War II, Abe's visit has prompted demands that he use his trip to officially apologize for Japan's historical wrongdoings and especially to the estimated 200,000women forced into sexual slavery by Japanese troops.
His speech to the U.S. Congress was watched closely around the world."
I wish I could sit smack in the front row ... so that he can see right into my eyes,"said 88-year-old Yong Soo Lee, one of the last and most outspoken survivors among South Korean "comfort women".
When questioned at the news conference, Abe again attributed the"comfort women"issue to"human trafficking".
"I am deeply pained to think about the 'comfort women' who experienced immeasurable pain and suffering as a result of victimization due to human trafficking," Abe said, repeating the phrase he used during a speech at Harvard University on Monday.
Feng Wei, an expert on Japanese studies at Fudan University in Shanghai, said Abe has been working on playing down Japan's role 70years ago while highlighting its identity as a victim of World War II.
"This has prompted dissatisfaction even from the United States, with some labeling Abe a revisionist of history," Feng said.