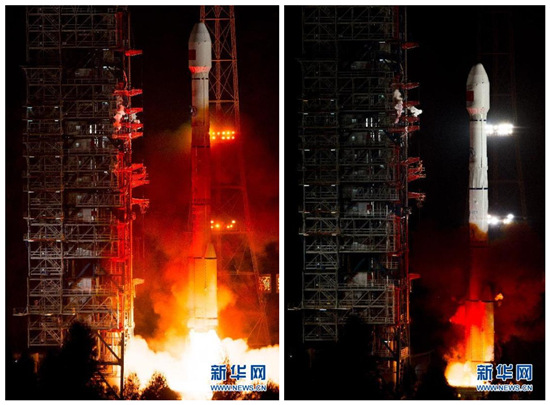 China launched a new-generation satellite into space for its indigenous global navigation and positioning network at the Xichang Satellite Launch Center in the southwestern province of Sichuan on March 30, 2015. (Photo/Xinhua)
A new-generation satellite for China's global navigation and positioning network has entered its designed work orbit, the satellite's developer said on Thursday.
As of Tuesday afternoon, navigation equipment on the satellite was functioning and its navigation signals were being received on Earth, according to a statement by the Shanghai Engineering Center for Microsatellites (SECM).
Launched on March 30, the satellite is the 17th added to China's Beidou navigation satellite system (BDS), and will expand the system's coverage substantially.
According to Xiangli Bin, the SECM director and chief commander for the new-generation BDS satellite program, the latest satellite will have a longer life and be more accurate than its predecessors.
The first BDS satellites was launched by China in 2000. In December 2012, the system began providing positioning, navigation, timing and short message services to users in China and parts of the Asia-Pacific region.
The BDS global network will have 35 satellites, five of which will be in geostationary orbit. The complete network should be installed by 2020, according to the center.
SECM is a non-profit organization established by the Chinese Academy of Sciences and the Shanghai Municipal Government.