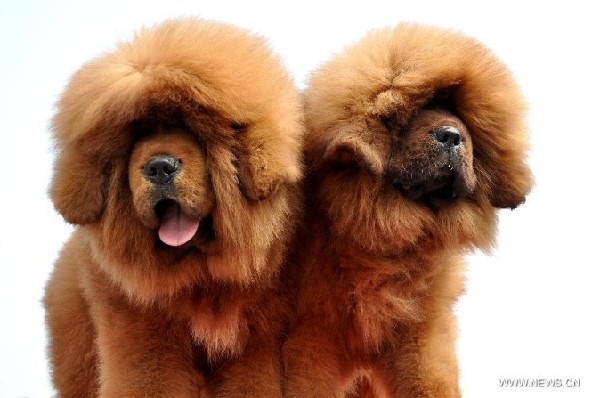 Two Tibetan mastiffs pose for photos at the 2nd Handan Tibetan mastiff exhibition in Handan, north China's Hebei Province, March 23, 2013. (Photo/Xinhua)
"If mastiffs are guns, then a Tibetan mastiff will be a gun that could be easily discharged accidentally,"said Wang Yibo, who runs an online forum for fans of the dog in China.
The remarks were made two years ago to describe the unpredictable and aggressive nature of the breed but now also sound appropriate for the country's Tibetan mastiff market.
According to the Tibetan Mastiff Association, there were 95 puppy farms in the autonomous region selling nearly 10,000 dogs annually before 2012. Now only 66 farms survive with 3,000 of the exotic breed sold in 2014.
Earlier this year, animal rights activists in Beijing were reported to have saved 21 Tibetan mastiffs and 150 other dogs from a truck heading to a slaughterhouse where the animals would have been sold for $5 a head.
Shaggy, lion-like mastiffs, native to Tibet and neighboring Qinghai province, were traditionally used as shepherds and watchdogs by herders and known for a loyal but fierce disposition.
Like luxury cars and houses, a Tibetan mastiff was once deemed a status symbol for China's nouveau riche. Burgeoning in the 1990s, the market has skyrocketed over the past two decades.
In 2012, a pup was reportedly sold for 20 million yuan ($3.23 million) in Qingdao, Shandong province. The market also boosted related industries, including feed and exhibitions.
The growing number of breeders led to an over supply of pups. "Many of the puppies are highly inbred and of questionable quality, which may threaten the species' existence in the long run and damage the reputation of the industry,"said Wang Yonggang, chief of the Tibetan Mastiff Association, quoted by Xinhua.
The cooling of the market can also be attributed to strict regulations against large dogs in cities, said Wang Zhankui, chief of a mastiff research center in Henan province.
Cases of pet mastiffs injuring or killing family members and passersby are occasionally reported, leading to a ban on raising the breed in cities including Beijing, Shanghai and Tianjin.
China's ongoing anti-corruption drive has also taken its toll, Wang said. The dogs were once a fashionable gift from businessmen to officials but now both avoid buying or receiving them.
Wang Yonggang said the industry can only return to normal with more effort on producing high-quality breeds and improving breeding skills.