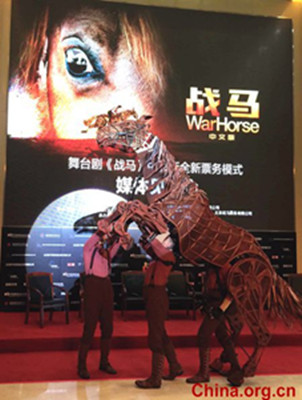 The play's life-size horse puppet Jozy meets public at a press conference on April 21, 2015.
A Chinese production of the British award-winning play "War Horse" is set to debut in four Chinese cities this September after an agreement was signed with the National Theater of China.
The Chinese production will be staged in Beijing, Shanghai, Guangzhou and Chengdu and is expected to attract large audiences with its fantastic story and high artistic value.
"War Horse," based on the novel by Michael Morpurgo, was the winner of the 2011 Tony Award for Best Play.
First performed in London in 2007, the play is about the relationship between a young boy from Devon and his horse as they are plunged into the horrors of World War I. The play's life-size horse puppets are the most striking aspect of its production.
The play is now in its seventh year on the British stage. The scheduled Chinese production will mark the first time that the play has been staged in Asia.
The hit play has been performed nearly 4,000 times in countries around the world, drawing a total audience of 6 million and meeting with great success in the United Kingdom, the United States, Australia and Germany.
A dozen young Chinese performers handpicked for the cast of the Chinese production of the play have already begun rehearsing.
"The play will bring a new experience to Chinese audiences," said Zhou Yuyuan, director of the National Theater of China. "I believe theater lovers, horse lovers and children will all love it."
The Chinese production is one of the key educational and cultural exchange projects between China and Britain that were agreed upon when the two countries celebrated the 10th anniversary of their all-round strategic partnership in 2014.
Crowdsourcing plays a key role
The promoter of the play, Beijing 1001 Nights Theater Company, has jumped on the crowdsourcing bandwagon to innovate the traditional ticketing system.
Audiences can book any number of one-yuan-denominated coupons to reserve a ticket (200 coupons for a standard ticket and 280 coupons for a premium ticket) and then trade in or exchange their coupons for a ticket.
The coupons have been put up for sale on JD.com, China's leading e-commerce company. On the day ticket sales began, the campaign received 500,000 yuan (US$83,000) in the first three hours before the sum surged to more than 2 million yuan in the following five hours, reaching a new record for crowdsourcing products sold on the platform.
Audiences can also purchase a variety of the play's promotional products on JD.com.
The success of this crowdsourcing campaign will likely prompt other theater companies to follow suit, making such a promotion scheme common in the cultural consumption sector.