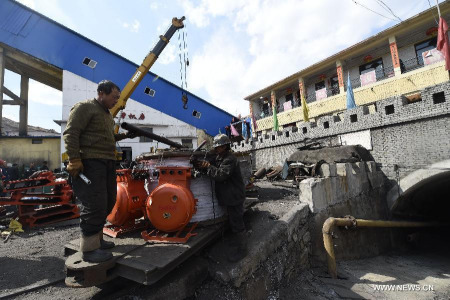 Rescuers transfer rescue materials at the Jiangjiawan coal mine in Datong, north China's Shanxi Province, April 20, 2015. Twenty four people were trapped in the coal mine after it was flooded on Sunday. (Photo: Xinhua/Yan Yan)
Seven miners were found dead and 17 remained trapped underground a flooded coal mine in north China's Shanxi Province, rescuers said Monday.
The bodies were retrieved at about 7 p.m. Monday when rescuers entered the shaft of the Jiangjiawan mine in Datong, a spokesman of the rescue headquarters told Xinhua.
More than 600 rescuers are still working to reach the 17 trapped miners. Over 1,500 cubic meters of water has been pumped out.
"Four pumps are working and the water level has dropped by 70 centimeters," a rescuer said. Rescuers are drilling holes in the ground to pump more water.
A total of 247 people were working in the mine when the accident occurred at around 6:50 p.m. on Sunday. 223 people made it out safely.
The coal mine, owned by Datong Coal Mine Group, has an annual production capacity of 900,000 tonnes.
An initial investigation suggests the flooding was caused by water accumulated in a mined-out area of the colliery.
The Datong Coal Mine Group has ordered all its small mines, many of which used to be privately owned and were later merged by the local mining giant, to suspend production to check for safety issues.