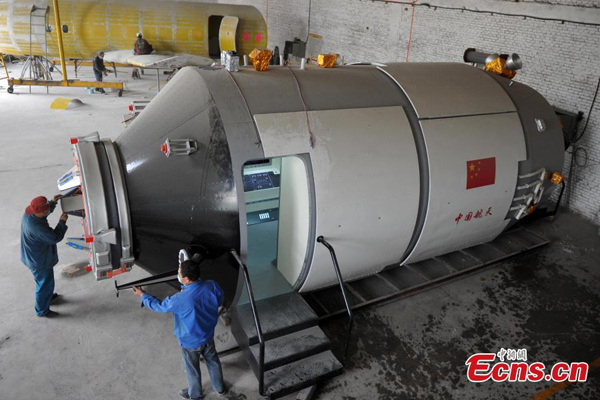 Workers construct a replica of the Chinese prototype space lab Tiangong-1 in Shijiazhuang, North China's Hebei province, April 15, 2015. (Photo: China News Service/Zhai Rujia)
China has several scale replicas of famous buildings, like the Eiffel Tower in Hangzhou or the New Summer Palace in Hengdian. But how about a replica of something in space? Hobbyists have built a scale model of the Tiangong-1 in Shijiazhang, Hebei province, which even has much of the equipment of the real space module.
The model Tiangong-1, 10m in length, 1.6m in width and 3.35m in diameter, was built to scale by several enthusiasts over 4 months and is the same size as the real Tiangong-1.
The model has an outer space toilet, water recovery system, sleeping capsule, kitchen, gym and other facilities.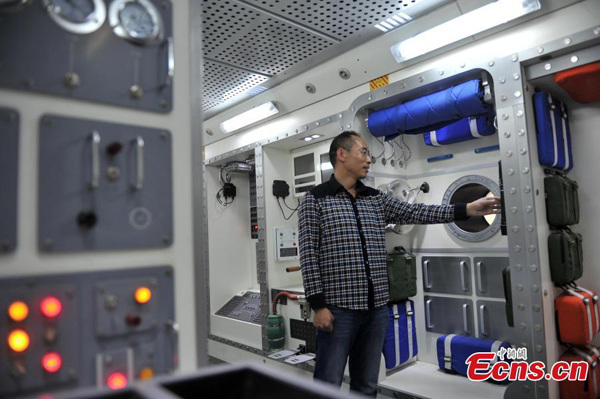 Xu Weilong shows off a replica of the Chinese prototype space lab Tiangong-1 in Shijiazhuang, North China's Hebei province, April 15, 2015. (Photo: China News Service/Zhai Rujia)