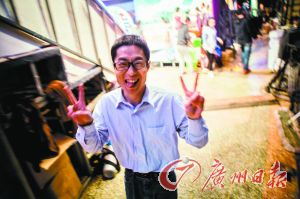 A Chinese man Li Dapeng became a nationwide celebrity after the 33-year-old was shortlisted to become one of the first Mars residents. (Photo/Guangzhou Daily)
A Chinese man has turned into a nationwide celebrity after the 33-year-old was shortlisted to become one of the first Mars residents.
Li Dapeng, born in 1982, used to be an ordinary gardener at a local forestry bureau in Handan in northern China's Hebei province. His daily work was to help local farmers in villages learn about and make full use of new agricultural techniques.
But the Mars One project, a plan launched by a Dutch nonprofit organization to take four humans to Mars to reside there in 2027, has totally changed his life. Li was informed through an email on February 13 that he passed the online interview made by Norbert Kraft, who professed to be in charge of the medical sector of the project. Li thus became one of the top 100 candidates for the Mars One project, 24 of whom will be selected to receive special training for what is supposed to be a one-way trip to Mars.
After receiving this news, Li received a large number of congratulatory messages from his friends, then from his classmates and even from his superiors in his office. Now he frequently gives speeches to students in the local elementary and secondary schools on the invitation of authorities instead of doing his routine work. One company even plans to shoot a documentary about Li's life.
Besides acting like an astronaut, he has also spent over 10,000 yuan ($US1,630) on books so that he can learn more about Mars. Li said, "The reason why I succeeded in passing the selection process probably was that I was good at agricultural technology. When we go up there, we should grow plants to produce food."
The project has been controversial ever since it opened its application process to Chinese citizens in April 2013. Many people, including some Chinese scientists, thought the project was a hoax, saying that the blatant commercial hype it was receiving and its inclusion as a topic on variety shows were simply attempts to gain worldwide attention.
Statistics showed that Chinese applicants paid a total of over US$100,000 in application fees to the project, but refund requests were denied when some applicants said they wanted to withdraw from the selection process.
Some people have also criticized the project's plans not to bring the volunteers back to Earth, saying this is a security and ethical issue.
In spite of all these doubts, Li has his own view on the project. He thinks that going to Mars is not as difficult as people imagine. NASA's Opportunity rover, which landed on the surface of Mars in 2004, is still going today and is still making discoveries. Li also noted that he will not be sent to Mars until 10 years from now, by which time technology will have advanced tremendously.
Li said that he was curious about the unknown world when he was young and he will make good use of this opportunity to explore other planets and expand the presence of mankind in the universe, although his family has voiced strong disapproval of his departure.