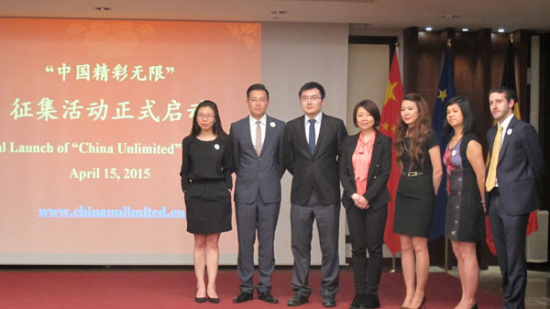 Jiang Xiaoyan of the China Mission to the EU with sponsors in Brussels. (Photo: Fu Jing/provided for chinadaily.com.cn)
Beijing and Brussels will hold a "strategic dialogue" to mark the 40th anniversary of diplomatic relationships, said a senior diplomat.
State Councilor Yang Jiechi and Federica Mogherini, high representative of the European Union for foreign affairs and security policy and vice-president of the European Commission will meet in China in early May.
The event is among dozens arranged by both sides to mark the anniversary.
"Mogherini will start her visit to China on May 5," said Jiang Xiaoyan, spokeswoman of the China Mission to the EU in Brussels. She said Mogherini will join celebrations of the 40th anniversary of bilateral relationships in Beijing the following day.
A reception co-hosted by the Mission and the European External Action Service will take place the same day in Brussels, which Jean-Claude Juncker, President the European Commission is expected to attend.
China and EU are expected to hold a summit in Brussels soon, sources said.
Apart from the political events, "China Unlimited" a competition organized by Jiang's mission, Atlas International Culture and the College of Europe, was launched on Wednesday and will run until the end of July.
Aiming to encourage cultural and people-to-people exchanges between China and EU member states, all EU citizens will be able to submit works interpreting China and the EU-China relationship though essays, paintings, pictures or videos.
All selected work will be published on the China Unlimited website(www.chinaunlimited.eu), where people can vote for them. According to a panel of judges and the online vote, 12 to 15 winners will receive free trips to China sponsored by Hainan Airlines.
"Through the contest we hope to open the conversation with European citizens to see how they perceive China, how they perceive EU-China relations and the future of bilateral ties", said Jiang.
On June 5, a group of young Chinese students will visit Brussels for the project "Act for Environment". Together with their European peers they will raise environmental protection awareness among people.
The Mission will also hold an Open House Day on June 6, enabling visitors to taste Sichuan cuisine from master chefs in China as well as get healthcare advice from traditional Chinese doctors in "temporary clinics", Jiang said.