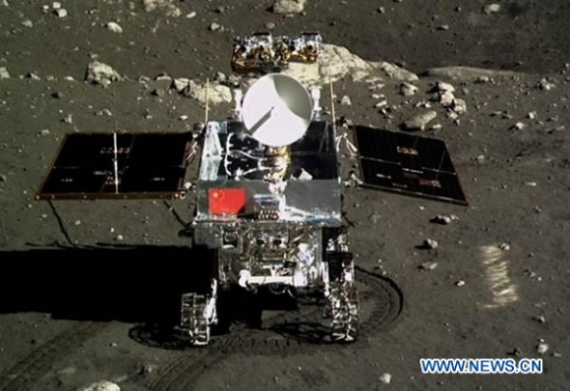 Screen shows the photo of the Yutu moon rover taken by the camera on the Chang'e-3 moon lander during the mutual-photograph process, at the Beijing Aerospace Control Center in Beijing. (Xinhua file photo)
Findings from China's first moon rover Yutu, or Jade Rabbit which is the only scientific probe to land on the Moon in almost 40 years, are rewriting lunar history.
Analyzing data sent back from Yutu, scientists find that a large volcanic eruption happened at its landing site, a basin called Mare Imbrium, about 2.5 billion years ago. Previously it was believed the Moon had seen little geological activity since 3.1 billion years ago.
"It's like an old man in a wheelchair who can suddenly run again," says Lin Yangting, a researcher at the Institute of Geology and Geophysics, the Chinese Academy of Sciences (CAS).
When there's little geological movement and a planet or moon is an icy rock, the planet is in its old age or already dead, scientists say.
The Moon is a case in point, explains Lin, while the Earth is now in its adulthood, and quite active.
On December 14, 2013, the Chang'e 3 lunar craft and Yutu rover performed a soft landing in the northeast of the Mare Imbrium, on the nearside of the Moon. Though Yutu encountered operational difficulties after moving just 114 meters, it gathered some useful data.
The CAS assigned five interdisciplinary teams to study the data. Lin leads one of the teams, and its findings have been published in the latest issue of a U.S. journal, Proceedings of the National Academy of Sciences.
VOLCANIC MYSTERY
The surface of the Moon features numerous large basins caused by bombardments of asteroids about 3.9 billion years ago. They were filled with dark basalt lava flows from volcanic eruptions, mainly during a period from 3.8 billion years to 3.1 billion years ago.
The eruptions produced layer after layer of basalt stacked in a vertical sequence, which, scientists believe, hides the history of the Moon.
Among the sophisticated instruments Yutu carries, the lunar penetrating radar (LPR) helps see below the surface.
The LPR data indicates three underlying basalt layers measuring 195 meters, 30 meters and 130 meters from the top at the Mare Imbrium. "That shows the upmost layer of the basalt is quite thick," Lin says.
Satellite images show the upmost layer of basalt on which Yutu landed is large and dates back to 2.5 billion years ago.
"For the Moon, 2.5 billion years ago was its late years in terms of geological activity, but the facts show a very large volume of basalt lava erupted at that time," Lin says.