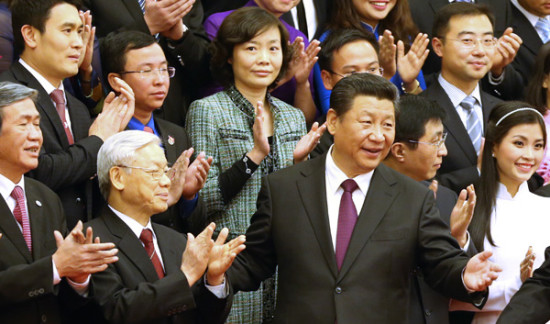 Xi Jinping, general secretary of the Communist Party of China Central Committee, and Vietnam's Communist Party chief Nguyen Phu Trong address young people from both countries in Beijing on Tuesday. (Photo: Wu Zhiyi/China Daily)
Nations sign series of agreements and pledge to tackle past differences properly
China and Vietnam showed their determination on Tuesday to strengthen ties strained by maritime disputes last year by sealing a host of agreements and pledging to tackle such friction properly.
The agreements signed in Beijing cover taxation relating to a joint exploration for oil and gas in the Beibu Gulf, which separates northern Vietnam from southern China, infrastructure, finance, currencies, extradition, peacekeeping and joint television filming.
Before witnessing the signings, Xi Jinping, general secretary of the Communist Party of China Central Committee, and Vietnam's Communist Party chief Nguyen Phu Trong agreed to work together to manage and control maritime frictions to safeguard peace and stability in the South China Sea.
Observers said Trong's visit, which follows tensions over a Chinese oil rig in the South China Sea in May, mark an improvement in the 65-year-old relationship.
Xi underscored the historical bonds and huge shared interests between the two neighbors, saying they should adhere to mutual respect and friendly negotiation, and seek common ground while setting differences aside.
Trong said both countries are conducting reforms and need to enhance cooperation, tackle differences properly and build a peaceful environment for development.
Accompanied by several ministers, Trong arrived in Beijing on Tuesday for a four-day visit. Xi greeted him with full military honors at the Great Hall of the People, and they also addressed hundreds of young people from both countries after the meeting.
It is the highest-profile trip to China by Vietnamese official since ties plunged after Hanoi protested Beijing setting up the oil rig near the Xisha Islands, which are also claimed by Vietnam. The rig's operations were disrupted by Vietnam. It also triggered anti-China demonstrations in Vietnam that turned violent and left at least four Chinese dead.
Hoang The Anh, an expert from the Institute of Chinese Studies at the Vietnam Academy of Social Sciences, said Tuesday's top-level meeting could get the bilateral relationship back on a healthy track and encourage communication between diplomats, scholars and the public to resolve maritime issues peacefully.
Both countries should share their experience in different areas, including the economic sector, said Anh, who hailed Vietnam's participation in the China-proposed Asian Infrastructure Investment Bank.
Despite the diplomatic strains, economic ties between Vietnam and China, its top trading partner, have continued to grow. Trade volume saw double digit growth last year, reaching$58billion, according to Vietnam.
Pan Jin'e, an expert on Vietnamese studies at the Chinese Academy of Social Sciences, said it will take time for the relationship to fully recover.
Hanoi is seeking a balance between Beijing and Washington, with some people in Vietnam wanting to reduce the nation's reliance on China by moving closer to the United States, Pan said.