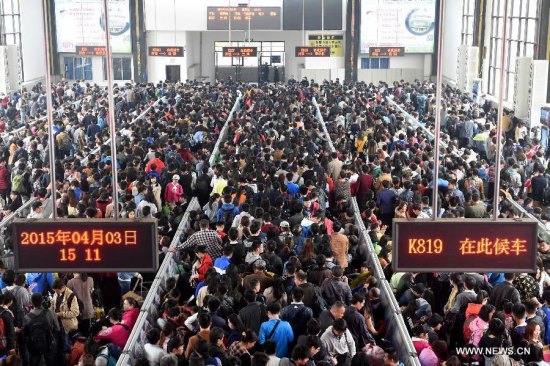 Passengers queue to take trains at Zhengzhou Railway Station in Zhengzhou, capital city of central China's Henan Province, April 3, 2015. Zhengzhou received a travel rush during China's traditional Qingming Festival, or Tomb-sweeping Day, which falls on April 5 this year. (Xinhua/Li Bo)
China Railway Corporation (CRC) said on Tuesday that 36.5 million passenger trips were made during this weekend's Tomb Sweeping Day holiday.
The figure was 5.8 percent up, on 2014 and an all-time high, according to the CRC.
The daily passenger flow hit 10.5 million on April 4, up 11.6 percent from the same day last year.
The rise is partially due to construction of new railways in recent years, especially high-speed railways, said the CRC.
Tomb Sweeping Day, or Qing Ming Festival, is a yearly celebration when people remember their ancestors, and fell on April 5 this year.