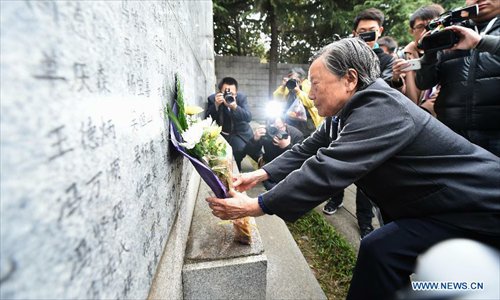 Survivor of Nanjing Massacre Xia Shuqin lays flowers in front of a wall inscribed the name list of victims at the Memorial Hall of the Victims in Nanjing Massacre by Japanese Invaders on the Qingming Festival in Nanjing, capital of east China's Jiangsu Province, April 5, 2015. Photo: Xinhua
The number of people visiting a memorial hall for war victims in east Chinese city of Nanjing more than doubled in the first three months this year, after China in December marked its first national memorial day for victims in a brutal massacre by Japanese invaders during the World War II.
A total of 1.47 million people visited the Memorial Hall for the Victims of the Nanjing Massacre by Japanese Invaders during the first three months this year, up from less than 600,000 in the same period a year ago.
The number of visits surged after a solemn ceremony was held at the memorial in December to commemorate innocent victims in the massacre, compatriots killed by Japanese aggressors, as well as revolutionary martyrs and heroes who devoted their lives to victory in the war against Japanese aggression.
In February 2014, China's top legislature designated Dec. 13 as the National Memorial Day for Nanjing Massacre Victims to remember those killed by Japanese invaders and expose their war crimes.
Visitors across the nation flocked into the memorial on Tomb Sweeping Day, which falls on Sunday this year, to mourn over 300,000 Chinese civilians and unarmed soldiers killed in a 40-odd-day slaughter after Japanese troops captured Nanjing, then China's capital, on Dec. 13, 1937.
The surge also came as this year marks the 70th anniversary of anti-fascist war victory, according to the memorial's curator Zhu Chengshan.