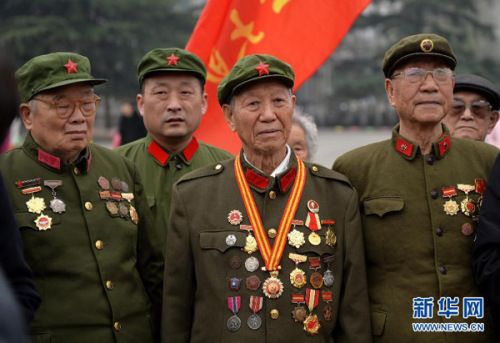 Veterans attend a memorial ceremony to honor war heroes in Jinan, Shandong province, April 5, 2015. [Photo/Xinhua]
Chinese people across the country honored the nation's heroes and victims who sacrificed their lives during times of war on Tomb Sweeping Day on Sunday.
A website opened by the central government to commemorate these honored dead has had nearly 200 million visits, and thousands of visitors posted comments praising the martyrs' contributions to the country.
On the Twitter-like micro blog platform Sina Weibo, "Commemorating the Martyrs" has become one of the trending topics. More than 657,000 netizens wrote comments and 5.6 million sent virtual wreaths.
Meanwhile, many kinds of memorial events were organized across the mainland with people flocking to war museums and memorial sites to honor the heroes.
Jiao Runkun, 90, has been busy attending events to honor the martyrs and visiting museums and revolutionary sites in the past few days.
He said many people lost beloved family members during the war years.
"Tomb Sweeping Day is not only a time to cherish and honor our revolutionary martyrs, but also a time to remember history and emotionally unite the Chinese people, " he said.
Jiao, who became an orphan when Nanjing, capital of Jiangsu province, was occupied by Japanese invaders in 1937, joined the New Fourth Army (led by the Communist Party of China) in 1942.
In Nanjing, survivors of the Nanjing Massacre, and younger generations, visited the Memorial Hall to the Victims of the Nanjing Massacre to honor their forefathers in the past days. The hall was built in memory of the more than 300,000 Chinese who were killed by the Japanese invaders in 1930s.
A Japanese tree planting group went to the hall to plant trees and place wreaths on Sunday.
According to the Jiangsu Department of Civil Affairs, more than 7 million people will visit museums and memorial sites this year to honor martyrs across the province.
In Shenyang, capital of Liaoning province, various kinds of events were held in the past few days to honor martyrs of the revolution. Many residents and tourists visited the 9.18 Historical Museum and revolutionary sites to commemorate the nation's heroes.
Rong Weimu, a researcher at the Chinese Academy of Social Sciences, said China will commemorate the 70th anniversary of end of the World War II, and the victory in the Chinese People's War of Resistance Against Japanese Aggression (1937-45).
"The Chinese people cherish the memory of their martyrs to remember the history of China's suffering and to prevent such tragedies from ever happening again," Rong said.