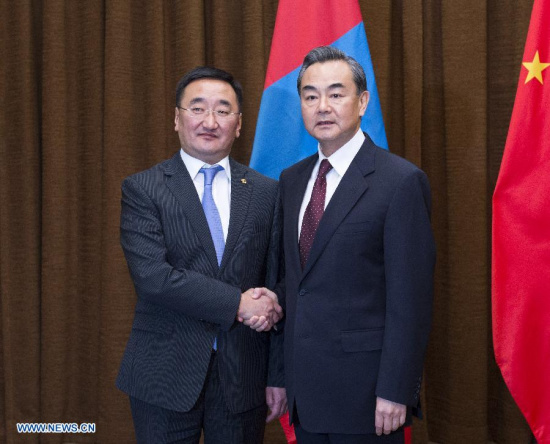 Chinese Foreign Minister Wang Yi (R) meets with Mongolian Foreign Minister Lundeg Purevsuren in Beijing, capital of China, April 1, 2015. (Xinhua/Wang Ye)
Chinese Foreign Minister Wang Yi held talks with his Mongolian counterpart Lundeg Purevsuren on Wednesday and they pledged to work together to commemorate the 70th anniversary of the end of the World War II.
As this year marks the 70th anniversary, China stands ready to work together with Mongolia and other Asian countries to highlight Asia's contribution to the victory of the world anti-fascist war and firm will to safeguard world peace, Wang said as the two officials held a joint briefing after their talks.
Purevsuren said he believes China's commemorative activities to be held this year will play an important role in promoting regional peace. He proposed the two sides hold some commemorative activities together, including making TV programs, as China and Mongolia fought shoulder to shoulder in the war against invaders.
The two countries should also teach the history among youngsters on their cooperation in the war, said the Mongolian foreign minister.
The two foreign ministers also hailed the recent development of the bilateral relationship, especially after Chinese President Xi Jinping's state visit to Mongolia last August.
China will stick to its friendly policy toward Mongolia and make its own development beneficial for Mongolian and other neighboring countries, Wang said, adding that the Chinese side will enhance communication with Mongolia and Russia to jointly build a China-Mongolia-Russia economic corridor.
Purevsuren said he is highly appreciative of China's efforts to pursue common development with neighboring countries and that Mongolia looks forward to closer cooperation with China in various fields.
Purevsuren is paying an official visit to China from Tuesday to Friday at Wang's invitation.