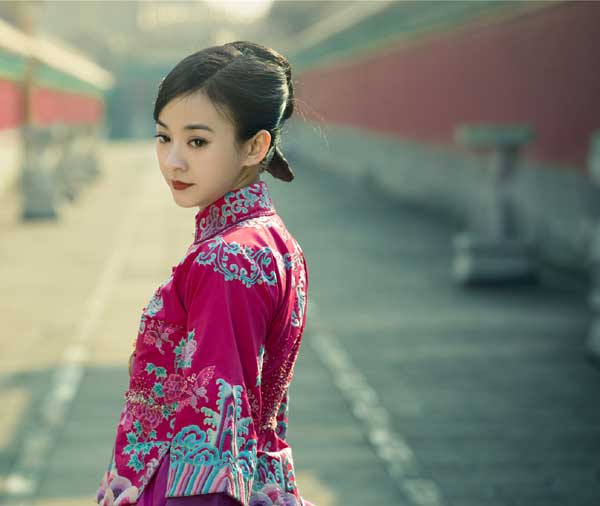 Screen capture of Xin Bu Bu Jing Xin, starring Taiwan actress Ivy Chen. Photo provided to China Daily
Tong Hua, a Shaanxi native, wrote a novel to get over her boredom after quitting her job as a financial analyst in 2005. When she uploaded the first few chapters of her book back then, it became a hit online, turning Tong into a celebrity author.
The book, Bu Bu Jing Xin, or Scarlet Heart, was printed in 2005, and it made a media splash as a best-selling novel that year. It has a Mary Sue-like character who "travels back" to the Qing Dynasty (1644-1911) and, among other adventures, gets involved in a love triangle with two princes.
Now the book is being adapted into a movie titled, Xin Bu Bu Jing Xin (Time to Love), starring Taiwan actress Ivy Chen and Canadian-Chinese actor Shawn Dou. The producers are pushing for its premiere on Qixi (the Chinese equivalent of Valentine's Day) that falls on Aug 20 this year.
In the light of this development, China Daily recently asked a few trade analysts if book-based movies made for good business in the country's entertainment industry.
Amid mixed opinions, an emerging trend is that moviemakers are seeking online novels because of the lower production costs, compared with scripts written by established authors and commissions to publishers of offline books.
A total of 114 online novels were bought to be adapted into screen productions by the end of last year, thanks to their popularity among Web users, Xinhua News Agency reports.
Among them, 90 works are to be adapted into TV productions and 24 are likely kept for the big screen.
The TV series He Yi Sheng Xiao Mo, or My Sunshine, for instance, adapted from the 2003 namesake online novel, topped audience ratings in January. Its movie adaptation, Silent Separation, revolving around a couple's seven-year separation and reunion, will be released on the mainland on May 1.
The list also includes The Lost Tomb TV series and movie franchises, based on the hit namesake online novel depicting the adventures of grave robbers, and The Ghouls, a 3-D thriller adapted from a best-selling online novel of the same title.
The Legend of Zhen Huan, inspired by a popular online novel on the country's former imperial rulers, will be made into a movie, Beijing Galloping Horse Media announced in Hong Kong on March 25.
"The big numbers show that a mature market is developing in China," says Wang Chen, general manager of Beijing-based film and TV series producer HS Media, which has purchased more than 10 popular online novels since 2011.
The genre of online fiction has accumulated legions of fans, saving resources that moviemakers must otherwise spend on promotional activities, Wang says.
But some experts caution that popularity could also be a double-edged sword.
"Diehard fans will keep a close watch on adaptations. If the plot is rewritten too much, or the cast is a far cry from the characters depicted in the original works, fans might feel angry and boycott the movie or TV production," Yun Yang, a veteran film critic, says.
Chen Su, deputy head of innovation at LeTV, one of the country's major streaming websites, says: "Even if a novel is adapted into a movie, the box office doesn't rely on the fans alone."
According to him, A-list stars and action scenes usually guarantee box-office success, much more so than the popularity of the original novels.
Besides, if the central idea of a book is preserved in the movie adaptation, the changes to plot and characters might be of less significance to viewers, he says.
"The martial arts novels by Louis Cha have been adapted into more than 100 TV series and movies since 1958," Chen explains.
"Some of the remakes have made big on-screen changes, but were still welcomed (by audiences)."