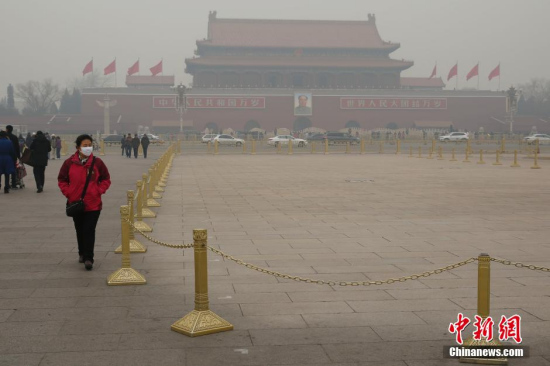 A photo taken on Jan 15, 2015 shows Tian'anmen Square is shrouded by smog. (Photo/China News Service)
Exhaust fumes, industrial production, coal-burning and dust are the main sources of air pollution in most cities, accounting for 85 to 90 percent of the total pollutant source, said Wu Xiaoqing, vice minister of Environmental Protection, at a national environmental monitoring conference on Wednesday, cyol.net reported.
The analysis of air pollution sources in nine monitoring cities shows that car emissions are the main source of smog in Beijing, Hangzhou, capital of East China's Zhejiang province and Guangzhou and Shenzhen in South China's Guangdong province.
Coal-burning is the main contributor to air pollution in Shijiazhuang, North China's Hebei province and Nanjing, East China's Jiangsu province, while dust and industrial production are responsible in Shanghai, Tianjin and Ningbo, East China's Zhejiang province.
Beijing on Monday released an updated emergency plan stating that if heavy smog persists for more than three days the city will launch top-level emergency efforts to reduce pollutants, including restricting the use of private vehicles based on odd-and-even license plates.