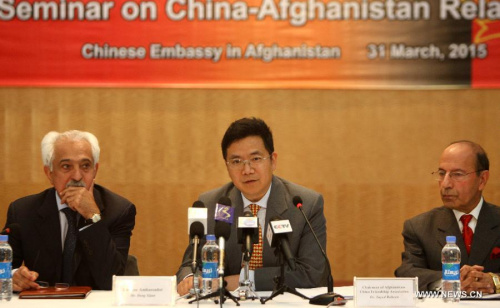 Chinese Ambassador to Afghanistan Deng Xijun (C) speaks during a seminar on China-Afghanistan relations in Kabul, Afghanistan on March 31, 2015. (Xinhua/Ahmad Massoud)
Participants in a seminar on China- Afghanistan relations on Tuesday called for enhancing bilateral relations between the two neighboring countries.
Addressing the seminar, Chinese Ambassador Deng Xijun said he will spare no efforts in enhancing people-to-people relations and maintaining frequent strategic communication between the two nations.
"We should give play to the irreplaceable leading role of high- level exchanges in boosting bilateral relations and promote the exchange of visits and meetings in multilateral arenas such as international conferences between the leaders of both sides," Deng told the seminar.
The ambassador urged both sides to maintain the momentum of exchanges at local levels, and strengthen strategic communication on major issues.
"I would like to emphasize that China's aid to Afghanistan is sincere and without any political conditions," the Chinese diplomat said.
He also stressed that China will continue to support Afghanistan's peace and reconstruction process for a peaceful and prosperous Afghanistan.
"China is willing to play a greater constructive role in Afghanistan, continue to support the effective administration of the Afghan National Unity Government, support the reconciliation between the Afghan Government and various political factions, including the Taliban, support the economic and social reconstruction of Afghanistan, support Afghanistan's integration in regional cooperation, and work with the international community to make unremitting efforts to realize the successful transition of Afghanistan," Deng noted.
Sayed Makhdum Raheen, chairman of Afghanistan-China Friendship Association, described China as a great and friendly neighbor of Afghanistan and hoped to further cement ties between the two countries.
Raheen, former minister of information of culture, called for more scholarship to Afghan students at Chinese universities in addition to emphasizing promotion of people-to-people exchange and Chinese investment in the country's development projects.
"China will invite the Afghan delegations of political parties, youth, media and think-tanks to visit China within this year ... China will fulfill its commitment on offering Afghanistan 500 scholarships in the next 5 years, so as to encourage and support more Afghan youth to study in China," Ambassador Deng said.
Former Afghan National Security Advisor, Rangin Dadfar Spanta, called Sino-Afghan relations very cordial, saying their bilateral relations will develop further in the years ahead.
"There are great opportunities for enhancing economic cooperation between Afghanistan and China. The economic relations must be maintained and strengthened," he said.
Baryalai Sabir Barya, director general of the parliamentary affairs department of Foreign Ministry of Afghanistan and Daud Moradian, director of the Afghanistan Institute for Strategic Studies were among other participants at the seminar.