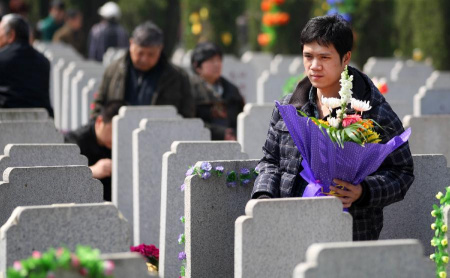 A man holds a bunch of flowers to pay homage to the deceased at a cemetery on the Qingming Festival in Nantong, east China's Jiangsu Province, April 4, 2013. (Xinhua/Xu Peiqin)
Tomb-sweeping Day is still a few days off, but shrewd Chinese businessmen are already cashing in on time-poor Chinese: by offering to pay respects to deceased ancestors on their behalf.
On e-commerce platform Taobao, scores of stores are offering such proxy tomb-sweeping services across the country. A vendor in Hengyang City of central China's Hunan Province told a Xinhua reporter that a three-minute "weeping service" costs about 100 yuan (16 U.S. dollars), although the business could only spare one member of staff to "cry" in front of each grave due to overwhelming demand.
"If you need a 'group weeping', which requires at least 10 people, you need to reserve five days in advance and pay 90 yuan for each proxy," said the vendor.
Tomb-Sweeping Day is a traditional occasion when Chinese mourn late family members by weeping, burning incense and offering sacrifices. This year's Tomb-Sweeping Day falls on April 5.
In addition to weeping services, proxies can be paid to offer sacrifices, with the prices ranging from less than 100 yuan to hundreds of yuan. Companies can even provide invoices for the services.
"The tomb-sweeping process usually lasts 20 to 30 minutes, and we can take 10 pictures of the process and send them to you if required," explained a vendor in Nanchong City, southwest China's Sichuan Province.
Some have praised the services for providing an alternative for those who live far from their hometowns and who cannot make it home during the coming holiday.
Many Chinese, however, regard proxy tomb-sweeping as absurd.
"I think it would be weird to have someone I don't know sweep tombs for me," said Qin Tian, a Beijing-based consultant. "To me, tomb-sweeping is a chance to remember my deceased family members, and it certainly should be done by myself," he said.
Shi Lixue, a member of the China Forklore Society, said the paid-for services appear insincere, and are not quite suitable for the time-honored tradition.
"In an increasingly busy society, people who cannot go home for the holiday can use many ways to remember their deceased family members, such as online mourning," Shi said.
"Tomb-sweeping is a time for Chinese to show filial respect for ancestors, and such sense should not be distorted," he added.