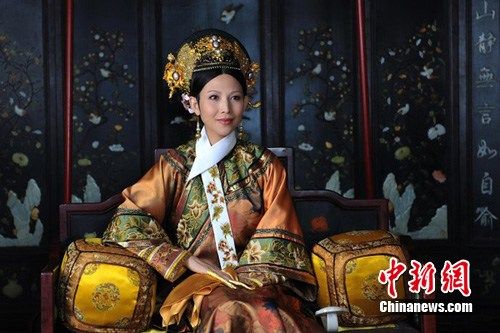 Still of The Legend of Zhen Huan. (Photo/China News Service)
Daydreaming about the kind of life one wishes one had, rather than the life that one actually must live, has long been the refuge of frustrated adolescents. Now this seemingly frivolous pastime is being pegged as the basis for one of China's most popular fiction genres in recent years - the "Mary Sue" story.
"Fifty Shades of Grey, Twilight, The Legend of Zhen Huan, and The Empress of China, are all examples of Mary Sue stories," said Huo Zhi (pen name), an independent film critic who has over 15,000 subscribers on WeChat.
The origin of the term Mary Sue can be traced to character in a Star Trek fan fiction written by Paula Smith in 1973 that appeared in second issue of the fanzine Menagerie. By 1976, the editors of the fanzine had already begun to express their displeasure with the trope of Mary Sue characters.
According to Huo, the term Mary Sue is generally used to describe a female character that serves the purpose of wish-fulfillment for the author.
Typically, a Mary Sue character will be an idealized version of the author herself, being exceptionally beautiful, implausibly talented, devoid of flaws, and admired, envied, or beloved by all other characters in the story.
In China, perhaps the most well-known work that has been described as a Mary Sue story by critics and Internet users is The Legend of Zhen Huan, a palace drama following the intrigues of the eponymous character that was first published under the pen name of Liu Lianzi in 2007.
The online novel, which has over 4.8 million views on sohu.com, was adapted into a 76-episode TV series in 2011, and recently re-edited and released on US-based film and television subscription service Netflix.
A follow-up to the novel, titled The Legend of Ru Yi, was serialized online in 2012, and is currently being adapted into a TV series by the media company New Classics China.
"I love the detailed descriptions of [Zhen Huan's] beauty, of her thoughts, and of the romantic relationships between her and the three handsome, strong men [who court her]," said Liang Zimeng, a 16-year-old student in Beijing, who describes herself as an avid fan of Liu Lianzi's works. "Sometimes, I wish I were her."
Appetite for wish fulfillment
According to Huo, a large number of Mary Sue stories are based around courtship and romantic entanglement, and the audience for Mary Sue stories in China are primarily adolescent girls.
"The reason I like reading and watching Mary Sue stories is because I can be swept away by the beautiful romantic relationships," said Liang. "The heroine doesn't stick to one man, and no one blames her."
Yang Rong, a psychology professor at the Chinese Academy of Sciences, said that the popularity of Mary Sue stories among young girls in China was driven by the narcissistic world view typical of teenagers, and the aspiration to become independent and to have adult experiences.
"As China's economy has become more developed, children are maturing and starting to fantasize about experiences like having romantic relationships at an earlier age," said Yang.
While overindulging in the narcissistic fantasies provided by Mary Sue fiction could be harmful in creating unrealistic expectations about real life, said Yang, there was nothing unusual or unhealthy about narcissistic fantasies themselves, particularly during adolescence, when a person's imagination was especially active.
"It's normal for a mentally healthy person to be somewhat narcissistic, which can be expressed in various ways," said Yang. "Mary Sue fiction creates a mental stage to fulfill people's desire for attention, to be cared about, and to be flawless, perfect and powerful."
Mary Sue stories also serve the purpose of giving young people a template of an ideal personality to imitate, said Yang.
He suggested that for the 1970 and 1980 generations, the romantic fictions of Taiwanese author Chiung Yao fulfilled a similar role for readers as a form of aspirational fantasy.