Pianos, rocks, wraps and rolls
2014-08-03 10:41
Shanghai Star
Web Editor: Wang Fan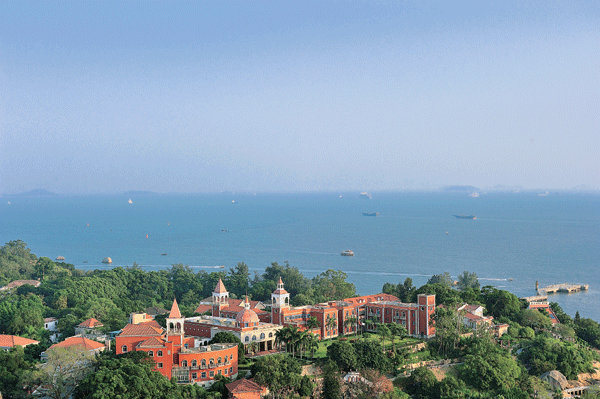 Island dreams: Xiamen and Gulangyu islands are popular destinations for a summer get-away. [Photo provided to Shanghai Star]
Xiamen has become a popular destination for Shanghai residents who want a brief summer retreat. Pauline D. Loh finds out the reasons why and looks at options to eat, play and stay.
If you wander around the tourist village of Zengcuo'an or the island of Gulangyu, you may very likely hear more of the Shanghai dialect than the local Fujianese tongue.
Xiamen, as a local hotelier tells me, is the new playground for Shanghai residents wanting a short break from the hustle and bustle - only to find the hustle and bustle transposed to this lovely Southern coastal city in Fujian province.
Proximity is definitely an attraction. Xiamen is only seven hours away from Shanghai by same day high-speed train, while a direct flight takes about one and a half hours.
Good hotels are relatively cheap, and many companies take advantage of the excellent MICE facilities here to book workshops and training sessions.
The casual traveler, too, can find plenty of affordable room deals.
Then there is that main attraction - good seafood and great street fare everywhere including the former German concession of the picturesque Gulangyu island.
Here, Xiamen is almost within hailing distance of Taiwan, and both territories share a patron saint and folk hero in Zheng Chenggong, who first colonized Taiwan for China in 1662. His son proceeded to become the first not very successful governor of the province.
A more than man-sized statue of the admiral now stands on a rock on Gulangyu, glaring out at sea towards Taiwan. The locals believe that typhoons often swerve by the Xiamen coast, intimidated by his fierce protection.
There are no cars on Gulangyu, just lots of eager day trippers who plod the historic routes looking at various landmarks left by the previous rulers, ranging from the foreign concessionaries to the old Kuomintang leaders.
There is also the world's only piano museum here, housing a collection of keyboards owned by an overseas Chinese tycoon who bought a huge tract of land on the island and proceeded to build on a grand scale.
The pianos are now housed in a building with rather kitschy black and white keys painted on the roof. Inside, look out for a triangular instrument that fits neatly into a wall corner.
Gulangyu is home to many famous musicians, especially pianists, and the museum pays tribute to both the living and dead.
Among the alleys and lanes, you may chance upon a lone busker on the saxophone playing Kenny G classics, or a violinist drawing out the strains of Dvorak's Goin' Home.
More often than not, you'll find people waiting in line to sample some of Xiamen's famous street food such as all sorts of barbecued seafood, wuxiang juan or five-spice rolls, and vegetarian dumplings using a gluten-free flour wrap with yam bean or jicama filling.
The five-spice rolls are fragrant minced meat rolls encased in bean curd skin. This is a signature Fujianese street snack that has been brought to many Fujian communities overseas, especially in Thailand, Singapore and Malaysia.
For the serious eater, however, the place to satisfy those culinary cravings is Zengcuo'an, a fishing village that is now a major tourist attraction filled with boutique hotels, quaint alley ways, souvenir shops, pubs, restaurants and a food center devoted to "Taiwanese Small Eats".
In fact, everything you can find in the average Taiwan night market can just about be found here, too, including the famous sausage within a sausage, and the oyster omelet. But any Xiamen native worth his salt, or seafood, will tell you it all originated here.
It's true. It is at Zengcuo'an where we discovered that the springroll, or chunjuan, was invented right here, in the village residence of a former Qing Dynasty (1644-1911) admiral.
Like the Earl of Sandwich, the busy official had no time for dinner, so his crafty wife decided to roll up some vegetables in a light crepe. She then handed it to him so he could work on his calligraphy with one hand and eat with the other.
Zengcuo'an is a good place to spend a leisurely day exploring the charming village and admiring its commitment to persuading the tourist to part with his or her yuan.
There are lots of places to stop for a cup of tea, a bowl of mango ice, a meal of steamed conch, baked oysters, roasted scallops and a variety of noodles with meatballs, seafood, savory mince and so forth.
If you become tired of the shopping and eating, cross the main road and take a stroll along the boardwalk on the beach. In summer, when no typhoon is threatening the coast, it is a breezy encounter with the sun, sea and sand.
If you go
Trains depart from Shanghai Hongqiao to Xiamen almost every hour. The journey takes about eight hours, and costs about 300 yuan, depending on the coach class.
There are about three daily flights between the cities, all under 2 hours. One-way flights cost about 1,000 yuan.
Gulangyu is accessible by ferry or private speed boat. It's always crowded so avoid the weekends, or you may spend lots of time just waiting in line.
Zengcuo'an is a short taxi ride away from town, but there are also buses available from the central ferry terminus.