Beijing Marathon to disqualify for peeing on walls
2014-07-15 14:39
China.org.cn
Web Editor: Gu Liping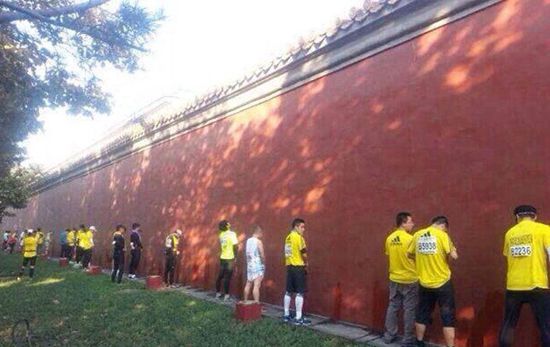 Some contestants had to urinate on walls along the way in 2013 Beijing Marathon.
Contestants in the 2014 Beijing Marathon will be disqualified if they urinate on "red walls" and other public places, according to the application notes for the competition this year.
More than 30,000 people took part in the 2013 Beijing Marathon, and some of them chose to urinate on walls along the way. The phenomenon was photographed by a journalist and caused a sensation after it was exposed to the public. Some people argued that mobile toilets have always been in short supply and contestants just had no choice. Peeing in public places, such as on lawns or by trees, is permitted in marathons in many countries.
A runner from Beijing said that he felt it was really rude to relieve himself anywhere he wanted. However, he simply could not hold it in, and since the other contestants all urinated in public places, he gradually became used to it.
The Beijing Marathon committee explained the "peeing on red walls" phenomenon last year by saying that mobile toilets are in short supply all over the world, and it would not be possible to provide toilets along the whole of the 42 kilometer course.