German Chancellor delivers speech at Tsinghua on sustainable development
2014-07-08 14:46
CNTV
Web Editor: Li Yan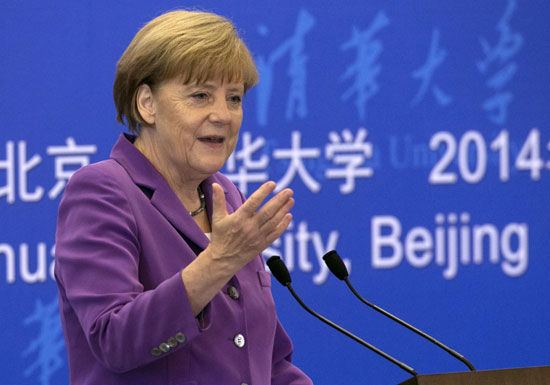 German Chancellor Angela Merkel delivers a speech during a visit to the Tsinghua University in Beijing, China, 08 July 2014.
German Chancellor Angela Merkel has delivered a speech at the renowned Tsinghua University in Beijing. Her speech focused on sustainable development.
"We also want to have technological partnerships with China. We have a lot of representatives of German enterprises in my delegation. German enterprises are good and experienced partners, in particular in the areas of renewable energy, energy efficiency and recycling, and also sustainable agricultural development. And many enterprises would also like to increase engagement in these areas in China. I think it's also important and good that you already have a joint educational program with Germany's Aachen University. Through these programs, people can be exposed to new technologies. The two countries have agreed to further innovation partnerships, and in the next round of inter-governmental consultation, we will formulate important aims in this regard." Merkel said.