Ancient bronze vessel reunited with lid in Hunan
2014-06-30 16:45
China Daily
Web Editor: Gu Liping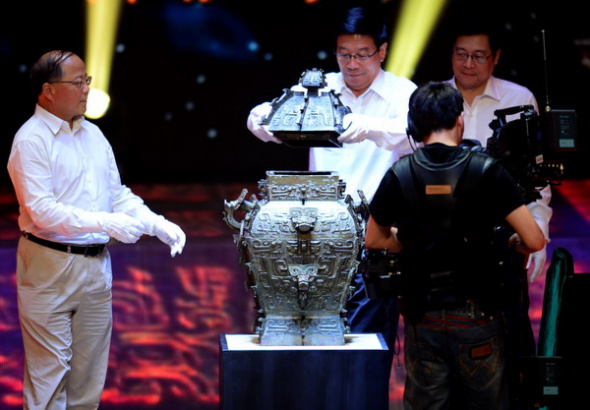 Secretary of the CPC Hunan Provincial Committee Xu Shousheng, Governor of Hunan province Du Jiahao, and Vice Minister of Culture Li Xiaojie together put the lid onto the Min Fang Lei vessel. [Photo by Zhou Guoqiang/asianewsphoto.com]
A 3,000-year-old Chinese wine vessel was reunited with its long-separated lid for the first time in nearly a century, at a reuniting ceremony in Hunan province on June 28. The ancient vessel called Min Fang Lei is considered the "king" of its kind, because it's the biggest and finest ever excavated in China.
Hunan Provincial Museum in central China has welcomed home the 3,000-year-old bronze wine vessel. A group of Chinese collectors struck a private deal for its sale with Christie's auction house in New York and donated it to the museum, which has kept the vessel's lid since 1956.
The Min Fang Lei vessel was slated for auction during Christie's Asian art event, in which it could have fetched more than 20 million dollars. It arrived at the airport of Changsha, capital of Hunan province on June 21st.
This vessel ranks amongst the most important Chinese archaic bronzes to ever appear at auction. When offered for sale at Christie's New York auction house in March 2001, it set a world record for any Asian work of art. With its combination of massive size, powerful proportions, and superb casting, this exceptional wine vessel represents a defining masterpiece, not only of Chinese art, but also in the context of global art history.
The Min Fang Lei was first discovered in Hunan province by villagers in the 1920s. The lid was then bought by an army officer and later collected by the Hunan Provincial Museum in the 1950s. The vessel however was brought to Shanghai and then sold among foreign collectors, hence the long separation...
The reunited parts will be permanently kept by Hunan Provincial Museum, which will reopen in mid-2015 after a three-year renovation.