Hurdler Liu soon ready to resume training
2014-04-16 15:38
chinadaily.com.cn
Web Editor: Wang Fan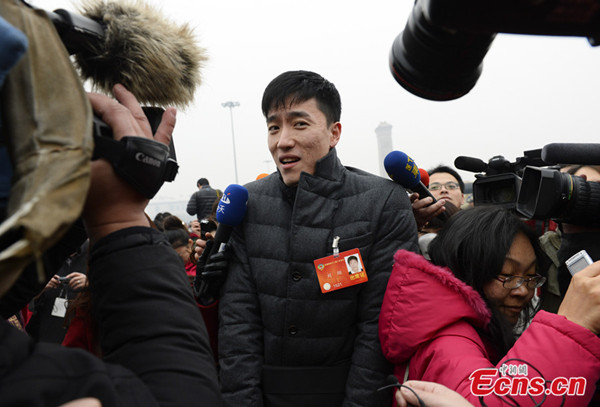 Chinese hurdler and former Olympic champion Liu Xiang, also a member of the Chinese People's Political Consultative Conference (CPPCC), China's top political advisory body, arrives for the opening of the 2nd Session of the 12th National Committee of the CPPCC at the Great Hall of the People in Beijing on March 3, 2014. [Photo: China News Service /Liu Zhen]
Olympic champion hurdler Liu Xiang is about to finish his rehabilitation and will start athletic training with intensity, said his longtime coach Sun Haiping.
Liu, who had surgery to repair a torn right Achilles tendon in August 2012 after suffering an injury at the London Olympics, has reduced his rehab training sessions from five times per week to two, a positive sign that the former world record holder is nearing full recovery after 18 months of rehabilitation, according to a report on qq.com.
The report quoted Liu's mentor Sun, who hinted Liu would soon return to specialized training for hurdling technique and strength.
Sun was quoted as saying that, according to a recent medical check: "There is still a minor shadow on his surgery wound but it's much smaller than when last checked in November. The result of the rehab is satisfactory."
Sun said the rehab team from the United States, which works with Liu twice a week at Shanghai's Oriental Land Sports Training Base, would probably hand Liu back over to Sun for athletic training in May or June.
"I think it will be soon. But we won't set a timetable to make it rush," Sun said.
Liu has begun hurdles practice wearing regular sneakers in between rehab treatments but remains far from the prime condition needed to fit professional track shoes, which require a certain level of foot strength and flexibility, Sun said.
Earlier, during the two sessions in Beijing, Liu was positive about his return and unveiled his desire to compete in the 2015 IAAF World Championships, which will be held at the National Stadium in Beijing next August.
"I still believe in myself," he said. "The world championships at home is an ideal stage for every Chinese athlete, and I still dream of being able to return to the Bird's Nest and race on the track."
The ideal tune-up event for the Worlds would be the 2014 Asian Games, which start in September in Incheon, Korea, but Sun was vague about whether Liu would be ready for those.
"It's hard for me to give an exact answer," Sun said.
Having been with Liu through two major injuries, including one that forced him to withdraw from the 2008 Olympics, Sun stressed that every decision should be made with the athlete's health as priority.
"We can't afford any risks anymore with his injury history and age. Everything should be done for 100 percent safety," Sun said.