Zhou Xun receives Order of Arts and Letters medal
2014-02-24 10:01
Global Times
Web Editor: Li Yan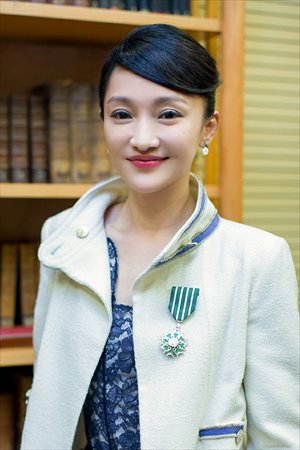 Zhou Xun Photo: Courtesy of BigMovie
Chinese actress Zhou Xun received a Chevalier medal in the Order of Arts and Letters from French Foreign Minister Laurent Fabius at the Embassy of France in Beijing on Friday. Following Chinese stars such as Zhang Ziyi and Liu Ye, Zhou's name has been added to the growing list of stars in China's film industry.
Established by the French Minister of Culture in 1957, the Order of Arts and Letters is awarded to luminaries that have "significantly contributed to the enrichment of France's cultural inheritance."
Minister Fabius praised Zhou for her contribution in film, public welfare and cultural communication between China and France.
He especially mentioned Zhou's early movies Suzhou River (2000), which won her Best Actress at the 15th Paris Film Festival, and Balzac and the Little Chinese Seamstress (2002), a China-France produced movie nominated at international film festivals including the Golden Globe Awards and Cannes.
"I don't know what you call a knight in Chinese, but you can refer to her (Zhou) as 'Madame Knight' now," he said during the investiture.
"I'm not one of the nobility, just a common person. The only thing I'm proud of is I have always strived to be a better person. That is the spirit of a knight in my opinion," Zhou said.