'Transformers 4' back to China for additional shots
2014-01-23 14:29
China.org.cn
Web Editor: Wang Fan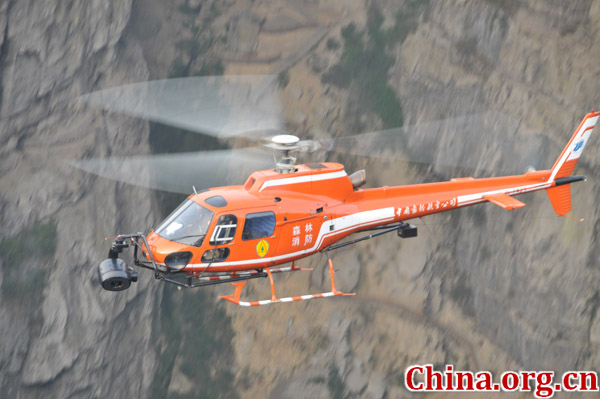 Two helicopters were used to get several grand aerial shots of the tiankengs (giant dolines) and naturally formed bridges on Tuesday and Wednesday. The scenes they shot will be used in "Transformers 4" to add visual impact. [Photo: China.org.cn]
The "Transformers 4" crew returned to Chongqing on Monday to shoot some additional footage due to script changes, China.org.cn learned.
Paramount Pictures' "Transformers: Age of Extinction" is the latest installment of the blockbuster alien robot franchise. Director Michael Bay has shot in several Chinese locations throughout October 2013, including Chongqing's Wulong Karst National Geology Park.
At that time Bay once told China.org.cn, "The scene we shoot here (Wulong) is a very heroic scene with autobot leader Optimus Prime, it's a very exciting and big scene."
Due to the recent script alterations, the crew was forced to once again visit the Three Natural Bridges scenery of Fairy Maiden Town in Wulong County on Monday, and used two helicopters to get several grand aerial shots of the tiankengs (giant dolines) and naturally formed bridges on Tuesday and Wednesday. The scenes they shot will be used in "Transformers 4" to add visual impact.
The Wulong Karst is located at Wujiang River downriver in southeast Chongqing and includes the three karst systems of the Sanqiao Natural Bridges, the Furong Jiang karst gorge and caves and the Houping erosion tiankengs, which are distributed across the mid-north, southeast and northeast of Wulong County respectively. It consists of gorges, natural bridges, tiankengs, caves, and harbors subterranean streams and resurgences which develop in the carbonate rocks of Cambrian-Ordovician systems and Permian-Triassic systems.
The area is now a UNESCO World Heritage Site, National 5A Scenic Spot and a definite tourist favorite. It is also the same place that once hosted the film shoot of Chinese blockbuster "Curse of the Golden Flower" by Zhang Yimou.
Bay and his production team explained the reason they chose Wulong is mainly because of the initial creative ideas to show a mysterious hill in China, but they also believed in global interests and the booming Chinese film market which could help the film gross more than US$1 billion worldwide.
The film is set for release on June 27, 2014.