Chinese vice premier meets mayor of Chicago
2013-12-24 10:09
Xinhua
Web Editor: Mo Hong'e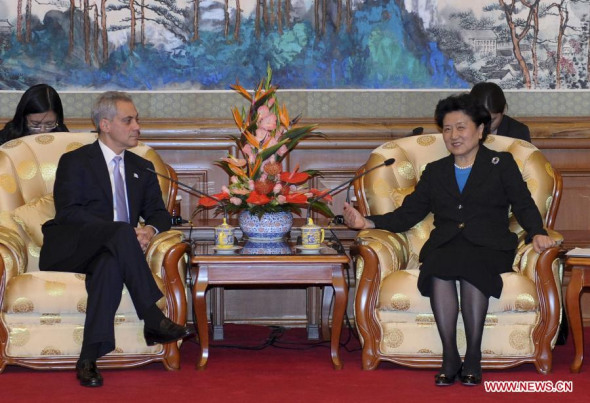 Chinese Vice Premier Liu Yandong (R) meets with Chicago Mayor Rahm Emanuel in Beijing, capital of China, Dec. 23, 2013.(Xinhua/Zhang Duo)
Chinese Vice Premier Liu Yandong met with Chicago Mayor Rahm Emanuel in Beijing on Monday.
Liu praised Chicago's role in promoting Sino-US economic, trade and cultural cooperation, and appreciated Emanuel's contribution to regional cooperation between Chicago and China's provinces and cities.
"Regional cooperation is an important driving force for bolstering Sino-US ties, and constitutes an great part of bilateral people-to-people exchanges," Liu said.
Liu expected Chicago to play a bigger role in enhancing China-US cooperation in various fields and increasing the friendship of the two peoples.
Liu made Chicago the first stop of her US visit in November, and the two officials met with each other then to discuss cooperation.