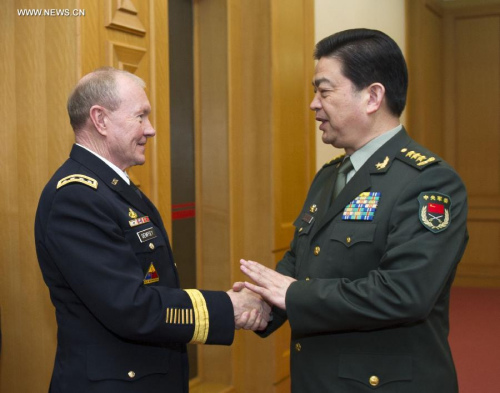 Chinese State Councilor and Defense Minister Chang Wanquan (R) shakes hands with Martin Dempsey, chairman of the U.S. Joint Chiefs of Staff, in Beijing, capital of China, April 23, 2013. (Xinhua/Xie Huanchi)
Vice Chairman of the Central Military Commission Fan Changlong and Defense Minister Chang Wanquan on Tuesday met with Chairman of the US Joint Chiefs of Staff Martin Dempsey, respectively.
Fan called on the two sides to enhance strategic trust through dialogue and consultation and deepen pragmatic cooperation, stressing that they should respect each other's core interests and major concerns and gradually eliminate the barriers to bilateral ties.
President Xi Jinping and President Barack Obama have pointed out the direction for the development of bilateral relations, Fan said, noting that military-to-military exchanges have shown a good momentum under the framework of relations between the two countries.
Chang, also state councilor, said that China is ready to make joint efforts with the US on building a new type of military relations featuring equality, mutual benefit, cooperation and common prosperity.
Dempsey said in the meetings that the US military is ready to further enhance exchanges and cooperation with the Chinese military.
Dempsey is visiting China at the invitation of Fang Fenghui, chief of the general staff of the Chinese People's Liberation Army.