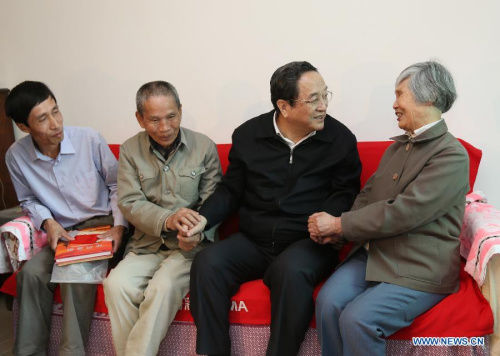 Yu Zhengsheng (2nd R), a member of the Standing Committee of the Political Bureau of the Communist Party of China (CPC) Central Committee, who is also chairman of the National Committee of the Chinese People's Political Consultative Conference (CPPCC), visits the home of Xu Qifa, a retired worker of Meiling Chemical Plant in Zunyi City, southwest China's Guizhou Province, March 24, 2013. Yu was on an inspection tour in Guizhou from March 24 to March 27. (Xinhua/Yao Dawei)
Top political advisor Yu Zhengsheng has called for concentrated efforts to push forward scientific development in southwest China's Guizhou Province.
Yu made the remarks during a recent tour of the province that took him to factories and enterprises, ethnic villages, and urban communities.
Yu also came to the Zunyi Cemetery of the Red Army Martyrs to pay tribute to them.
While visiting the ethnic villages, Yu stressed the importance of regional autonomy for minorities and urged efforts to enhance communication and exchanges between ethnic groups.
Yu asked local authorities to take advantage of state strategies to support development in west China, advance economic restructuring, step up infrastructure building and protect the environment to achieve sustainable growth and improve the well-being of local people.
During his visit to Bijie, an extremely poor city that was selected as an experimental zone for poverty alleviation, ecological construction and population control efforts in 1988, Yu hailed the progress made in the city and called for greater efforts to be made in the area.