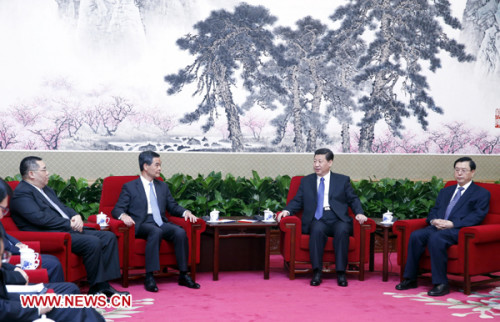 Chinese President Xi Jinping (2nd R) meets with CY Leung (2nd L), chief executive of Hong Kong Special Administrative Region, and Chui Sai On (1st L), chief executive of Macao Special Administrative Region, in Beijing, capital of China, March 18, 2013. (Xinhua Photo)
Chinese president Xi Jinping on Monday met CY Leung and Chui Sai On, chief executives of Hong Kong and Macao special administrative regions(SAR), fully endorsing their work and that of their respective governments.
Xi told the two executives that the fate of the Chinese mainland, Hong Kong and Macao are closely linked. Mutual development and complementation are needed to achieve the Chinese dream, which is the rejuvenation of the Chinese nation.
Xi said Leung's policy idea, seeking change while maintaining stability, has been widely recognized by Hong Kong citizens. He urged Leung and the Hong Kong SAR government to fully implement the idea. Xi said he hoped Hong Kong society can unite together and support Leung and the government.
As for Macao, Xi urged local government and various social circles to study major problems that hinder its development despite the current sound period, in order to lay the groundwork for its long-term development.
The two executives came to Beijing to attend the closing ceremony of the 1st session of the 12th National People's Congress (NPC) on Sunday.
Chairman of the NPC Standing Committee Zhang Dejiang, vice president Li Yuanchao and state councilor Yang Jiechi joined the meeting.