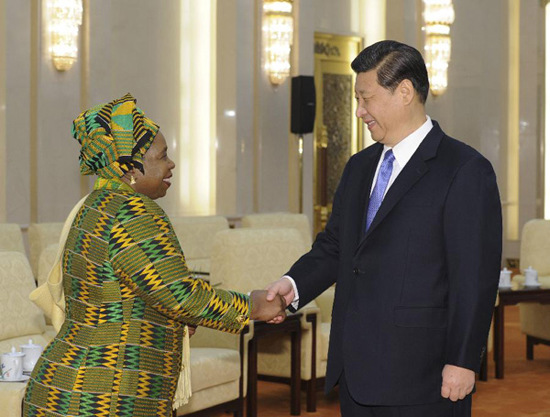 In this file photo taken on Feb. 17, 2013, Xi Jinping (R) meets with Nkosazana Dlamini-Zuma, chairperson of the African Union (AU) Commission, at the Great Hall of the People in Beijing, capital of China. (Xinhua/Rao Aimin)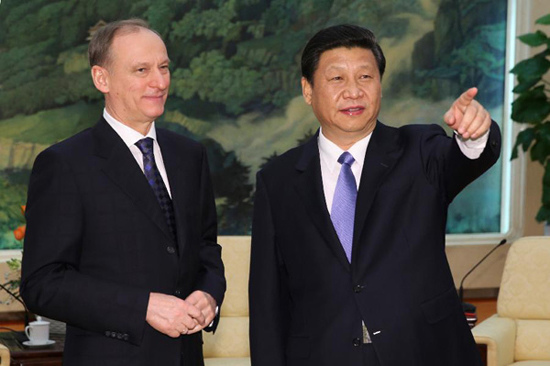 In this file photo taken on Jan. 8, 2013, Xi Jinping (R) meets with Russian Security Council Secretary Nikolai Patrushev at the Great Hall of the People in Beijing, capital of China. (Xinhua/Lan Hongguang)
After he was elected vice president in 2008, Xi visited more than 40 countries and regions and became increasingly skilled in handling complicated international issues.
Shortly after he served as the top CPC leader last year, Xi met with foreign experts working in China and sought their views and suggestions on China's development.
"China is ready to learn from the achievements of all other cultures," he said.
Since November last year, Xi has met delegations from the United States, Russia, the Republic of Korea and Japan, and representatives from the United Nations, the African Union and the Shanghai Cooperation Organization.
His confident and pragmatic approach has made him well-known among foreign diplomats.
He reassured the world of China's peaceful development with his ideas regarding win-win cooperation and mutual benefit.
Since China and the world share common interests, the "Chinese dream" cannot be realized without peace and development in the world, Xi said.
A prosperous and stable world community offers opportunities to China, while China's development presents great opportunities to the world, he said.
He called for other countries also to engage in peaceful development in order to develop peaceful coexistence.
"No country should assume that we will trade our core interests for benefits, nor will we swallow the 'bitter fruit' of harming our sovereignty, security or development interests," he said.