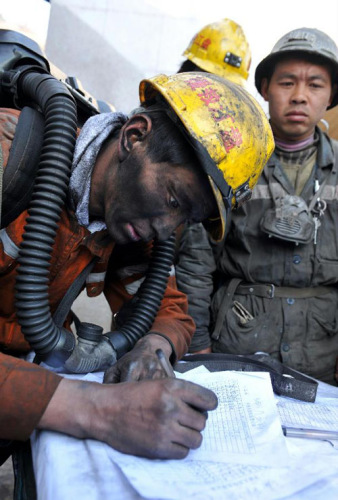 A victim of a coal mine accident is carried to an ambulance in Panxian county in the city of Liupanshui, southwest China's Guizhou Province, Jan. 21, 2013. The death toll of the accident which occurred on Friday afternoon at the Jinjia Coal Mine rose to five with eight others still trapped. Eighteen people were working underground when a gas explosion took place. (Xinhua/Yang Ying)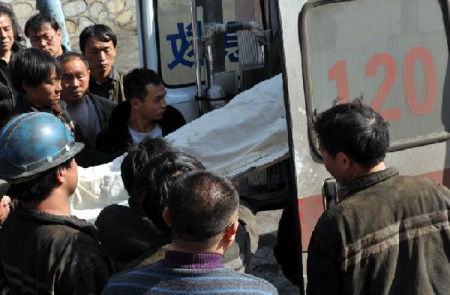 A victim of a coal mine accident is carried to an ambulance in Panxian county in the city of Liupanshui, southwest China's Guizhou Province, Jan. 21, 2013. The death toll of the accident which occurred on Friday afternoon at the Jinjia Coal Mine rose to five with eight others still trapped. Eighteen people were working underground when a gas explosion took place. (Xinhua/Yang Ying)
The death toll in a Friday coal mine accident in southwest China's Guizhou province rose to five Monday afternoon following the discovery of two more bodies.
Eighteen people were working underground when a gas explosion occurred
Friday afternoon at the Jinjia Coal Mine in Panxian county in the city of Liupanshui, killing five miners and leaving another eight missing.
About 300 rescuers are working around the clock to look for the missing miners.
An investigative team headed by the vice director of the provincial coal mine safety inspection bureau has been formed to look into the cause of the accident.
The team will also carry out a work safety inspection at the mine, as well as at Guizhou Panjiang Clean Coal Co. Ltd., the company that runs the mine, and the Guizhou Panjiang Group, the controlling shareholder of the company.
On Nov. 24, 2012, a similar explosion hit the Xiangshui Coal Mine in Liupanshui, killing 23 people.
Both the Jinjia and Xiangshui coal mines are controlled by the Guizhou Panjiang Group.