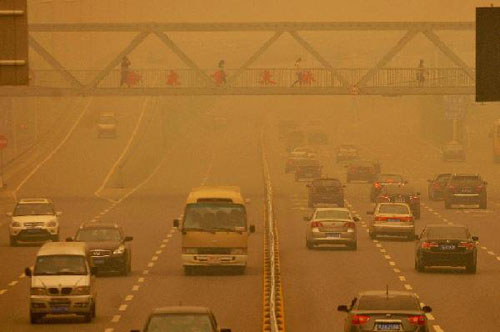 Vehicles move in fog in Wuhan, capital of central China's Hubei Province, June 11, 2012. Wuhan was hit by a foggy weather on Monday. (Xinhua/Xiao Yijiu)
Authorities in central China's Hubei province said that a grey haze hanging over the city of Wuhan on Monday was caused by straw burning.
Starting from 2 a.m. Monday, grey-yellow fog was spotted in seven cities in the province, including the provincial capital of Wuhan, according to a statement from the provincial environmental protection department.
An air quality monitoring report for Wuhan showed that the city's concentration of PM10 (particulate matter 10 microns in diameter) rose to0.574 mg per cubic meter at 2 p.m., tripling the average daily value of 0.150 mg.
The statement said the city's poor air quality was not caused by any industrial accidents in or near the city. A lab analysis of the air showed that the increase in airborne pollutants resulted from a rising concentration of carbon particles, which is usually formed by the burning of organic matter.
China is in the middle of its wheat harvesting season. Many farmers choose to burn crops that are left behind in their fields after harvesting.
The provincial environmental protection department has sent a team to tell local farmers to refrain from burning their crops, the statement said.
Children, the elderly and people with heart or respiratory diseases are advised to stay indoors, according to the statement.